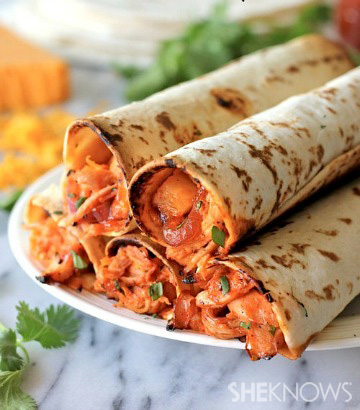 Taquitos with an island twist
Give your chicken taquitos a Hawaiian barbecue makeover with red onion, pineapple and cilantro.
Make this quick and easy dinner even simpler by using store-bought rotisserie chicken. Serve your taquitos with macaroni salad on the side for an even more authentic Hawaiian feel.
Hawaiian barbecue chicken taquitos recipe
Serves 2-4
Ingredients:
1 tablespoon olive oil
1 red onion, thinly sliced
2 cups cooked, shredded chicken breast
1 cup grated sharp cheddar cheese
1 cup diced pineapple
1/3 cup barbecue sauce, plus more for serving
2 tablespoons chopped cilantro leaves
Kosher salt
Freshly ground black pepper
8-10 medium-size flour tortillas
Directions:
Preheat oven to 425 degrees F. Line a baking sheet with parchment paper.
In a medium skillet over medium-high heat, heat olive oil. Add onion and cook, stirring occasionally until caramelized, about 10-15 minutes. Transfer to a large bowl.
In the bowl, combine red onion, chicken, cheddar cheese, pineapple, barbecue sauce, cilantro and salt and pepper, to taste.
Warm tortillas slightly to soften. Working one at a time, place chicken mixture in the center of each tortilla. Bring the bottom edge of the tortilla up tightly over the filling, then roll from bottom to make the taquito. Repeat with remaining tortillas and filling.
Place taquitos seam side down onto the baking sheet. Bake until crisp and cheese has melted, about 15 minutes.
Serve immediately with extra barbecue sauce, if desired.
More Daily Flavor
Tater tot nachos
Scrambled egg breakfast tostadas
Hawaiian barbecue chicken flatbread pizza