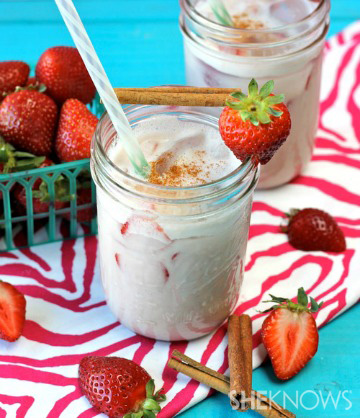 A fruity spin on
a classic drink
Infuse your horchata with strawberry puree for a sweet and fruity take on this classic rice-based beverage.
This refreshing traditional Mexican drink will quench your thirst and is also a perfect way to tone down a spicy meal.
Strawberry horchata recipe
Adapted from A Cozy Kitchen
Serves 6
Ingredients:
6 tablespoons white rice
1-1/4 cups raw almonds
2 cinnamon sticks, plus more for garnish
Pinch of nutmeg
3 strips lime peel
1/3 cup sugar
1/4 cup strawberry puree
Cinnamon, for garnish
Directions:
In a large glass measuring cup, whisk together white rice, almonds, cinnamon sticks, nutmeg, lime zest and 2-1/2 cups hot water. Let mixture stand overnight.
Pour mixture into a blender and blend until smooth. Add 2 cups water and blend again until well combined. Strain mixture through cheesecloth or a fine sieve. Stir in sugar and strawberry puree.
To serve horchata, stir well, then pour into ice-filled glasses. Garnish with cinnamon sticks and a sprinkle of cinnamon, if desired.
More Daily Flavor
Raspberry peach iced tea
Quick salty limeade
Homemade chai iced tea