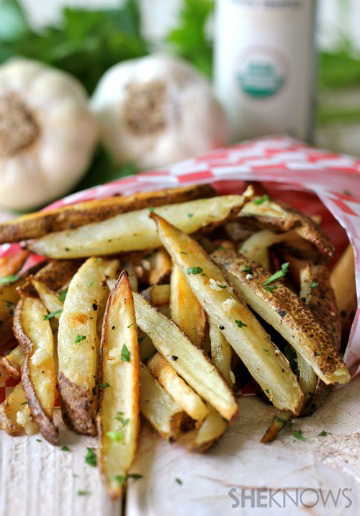 Indulgent fries
Make your french fries a gourmet affair by adding garlic and truffle oil.
Whole truffles might be a little outside of your budget, but truffle-flavored olive oil gives you a taste of this indulgent ingredient at a fraction of the cost. Change this recipe up by using any flavored oil that you like.
Baked garlic truffle fries recipe
Serves 3-4
Ingredients:
3 russet potatoes, cut into 1/3-inch thick fries
2 tablespoons white truffle-flavored extra-virgin olive oil
Kosher salt
Freshly ground black pepper
3 garlic cloves, minced
Ranch dressing, for serving
1 tablespoon chopped parsley leaves, for garnish
Directions:
Preheat oven to 450 degrees F. Line a baking sheet with parchment paper.
Place the potatoes in a single layer onto the prepared baking sheet. Drizzle with truffle-flavored olive oil and season with salt and pepper, to taste. Toss to combine.
Bake for 30-40 minutes, or until golden brown and crisp, turning occasionally to crisp all sides.
Immediately toss fries in a large bowl with minced garlic.
Garnish with parsley and serve with ranch dressing for dipping, if desired.
More Daily Flavor
Beef lemongrass sliders
Korean fried chicken wings
Sriracha and mango guacamole