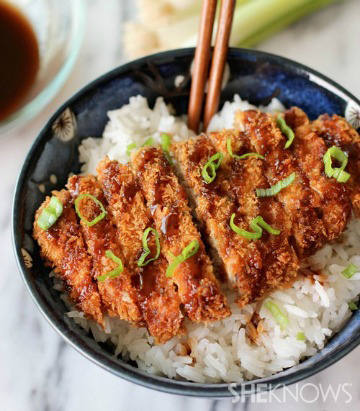 Make Japanese food at home
Tonkatsu is a quick-and-easy Japanese-style dinner of pan-fried breaded pork. It's perfect for a busy weeknight meal.
This traditional meal is typically served in sandwiches or with curry, but it's delicious on its own, too. Be sure to serve this with a bowl of tonkatsu sauce, or Japanese barbecue sauce, for dipping.
Tonkatsu recipe (Japanese pork cutlet)
Serves 2
Ingredients:
1 cup corn oil
1 pound boneless pork chops
Kosher salt
Freshly ground black pepper
1/2 cup all-purpose flour
1 large egg, beaten
1 cup panko breadcrumbs
Cooked rice, for serving
Tonkatsu sauce, for serving
Directions:
In a large skillet over medium-high heat, heat oil.
Season pork chops with salt and pepper, to taste.
Dredge each pork chop in flour, dip into the egg, then dredge in the panko, pressing to adhere to the meat.
Working in batches, add the pork chops to the hot oil, 2 or 3 at a time, depending on size of pan, and fry until evenly golden brown and crispy, about 3-4 minutes on each side. Transfer to a paper towel-lined plate.
Serve immediately with rice and tonkatsu sauce, if desired.
More Daily Flavor
Asian pasta salad
Korean fried chicken wings
Grilled vegetable salad with Asian vinaigrette