Creepy soup that tastes delicious!
Only on Halloween does the thought of eating a soup filled with eyeballs sound at all fun or appetizing. Even though it sounds grotesque, this monster eyeball soup is actually delicious! Plus, it makes a great conversation starter during your dinner!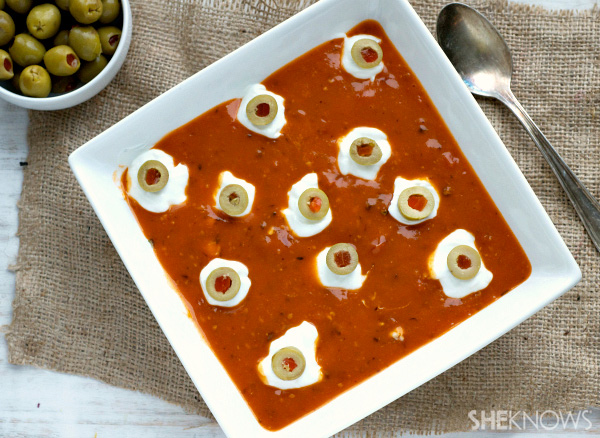 Don't worry,  as far as we know, there aren't actually eyeballs in the soup. If your guests are wary of eating it, just tell them that the warm and savory tomato bisque is made with bacon fat and fresh basil. Who can turn that down? For some added fun, serve this at your next dinner party without warning!
Ghoulish monster eyeball soup recipe
Serves about 3
Ingredients:
For the bacon tomato bisque
6 strips bacon, chopped
1/2 cup chopped onion
1/2 cup chopped celery (or use more onion if you don't have any)
1/4 cup flour
28 ounce can Italian diced tomatoes
1-1/2 cups vegetable broth
1 bay leaf
1 teaspoon coarse ground black pepper
2 teaspoons sugar
3/4 cup heavy or light cream
1 cup finely grated cheddar cheese
3 tablespoons chopped basil
For the eyeballs
2 large green olives with pimento
About 8 teaspoons Greek yogurt
Directions:
Heat up a big soup pot over medium heat and add the bacon. Cook, stirring occasionally, until crisp, about 10 minutes. Remove the bacon with a slotted spoon to a paper towel, but leave the bacon fat in the pan. Add the onion, celery, chopped basil and cook for 5 minutes over medium heat or until soft and fragrant.
Add the flour and cook, stirring frequently, for 3 minutes or until thickened. Add the diced tomatoes, broth, bay leaf and sugar. Bring to a boil, reduce to a simmer, and cook for at least 30 minutes. Add salt and pepper.
Add the heavy cream to cool the soup slightly, remove the bay leaf and then pour into a blender. Blend until smooth and pureed. Add the cheese and stir until melted and gooey.
Top the soup with Greek yogurt, careful not to dip the tops of the yogurt in the soup (the yogurt will make for the white around the eyes). Slice the olives into 4 slices. Top each dab of Greek yogurt with an olive slice.
More spooky Halloween recipes
Halloween pumpkin and monster face sandwiches
Potato ghosts
Spooky ghost pizza