Cute pops that look like pumpkins!
Who said Halloween is just for kids? These adorable jack-o'-lantern pie pops are cute for any age, including adults like us! These sweet pumpkin pops are perfect to serve to your co-workers or friends at your next book club!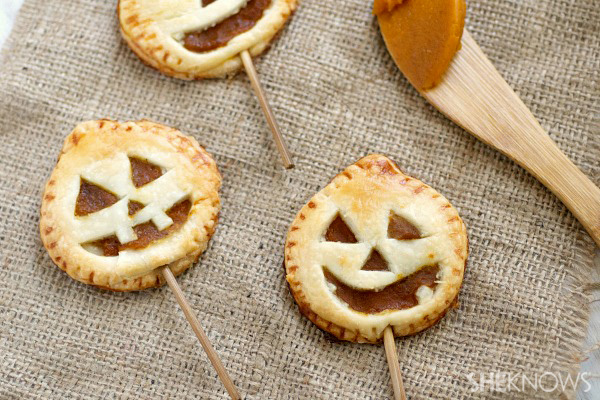 Not only are these cute, they are easy to make, too! All you need is a pumpkin cookie cutter, some of your favorite pie filling and some time! Although we filled ours with creamy pumpkin pie filling, you can sub in cherry or apple filling, too. For some added glitz, sprinkle the pops with orange glitter sprinkles as soon as they come out of the oven.
Jack-o'-lantern pie pops recipe
Yields about 8 pie pops
Ingredients:
2 pie crusts
1/2 cup sugar
1-1/4 teaspoons pumpkin pie spice
2/3 can pumpkin puree
3/4 cup evaporated milk
1 egg, beaten
Egg whites
Directions:
Preheat oven to 400 degrees F. Grease parchment paper with nonstick cooking spray and line a baking sheet with it.
Mix the sugar, pumpkin pie spice, pumpkin puree, milk and egg together.
Using a pumpkin cutout, stamp out 16 pumpkin shapes from the pie crust. Spoon about 1-1/2 teaspoons of filling into the center of 8 of the pumpkin shapes.
On the other 8 shapes, cut out jack-o'-lantern faces. Carefully press the jack-o'-lantern faces over the top of the pumpkin-topped pie. Using a fork, press the sides together. Using a brush, brush the ends of the crusts with egg white.
Stick 8 craft sticks into the center of the pumpkins. Bake for about 10 minutes or until golden brown.
More fun Halloween dessert recipes
Kitty litter cake for Halloween
Bloody teeth treats
Black widow snack cakes