This fun lasagna is perfect for Halloween!
Hosting your neighbors for Halloween this year and want to serve a spooky savory dish? Why not recreate those spooky graveyards you are always reading about in your kid's scary stories on top of your mom's famous lasagna? This spooky scene is completely edible, from the crispy bread tombs to the creepy-crawly spiders!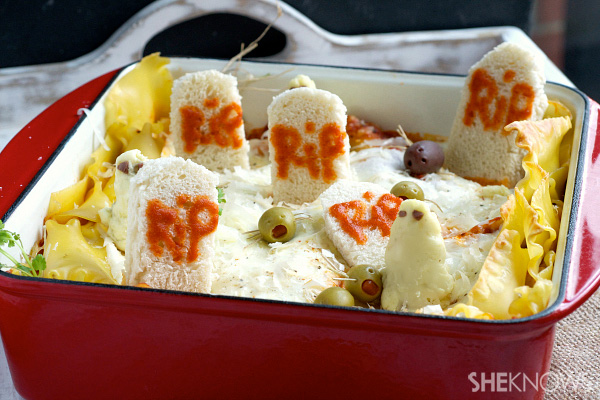 This creepy lasagna is a great way to spook your family and friends without the use of weird food dyes or additives. The whole-wheat lasagna is delicious, healthy and a great ice breaker for any age! Just watch out for the mashed boo-tatoes!
Scary graveyard lasagna recipe
Serves about 12
Ingredients:
About 12 lasagna noodles
1 container low-fat ricotta cheese
2 cups shredded mozzarella
2 ounces fresh mozzarella
1/3 cup shredded Parmesan cheese
About 1-12 cups pizza sauce
1 cup mashed potatoes, slightly chilled
8 olive spiders (use this recipe!)
6 slices white bread
Salt and pepper
Directions:
Preheat oven to 350 degrees F. Grease an 8 x 8-inch casserole dish with nonstick cooking spray. Set aside.
Bring a large pot of water to a rapid boil. Add salt and noodles and cook until al dente, about 8 minutes. Rinse in cold water and set aside. Mix the 1-1/2 cups of shredded mozzarella, ricotta cheese and salt and pepper.
Layer four noodles on the bottom of the pan. Top with about 1/2 of the ricotta and mozzarella mixture. Top with 1/2 cup sauce and salt and pepper. Layer another set of noodles over the sauce and top with remaining ricotta and cheese mixture. Top with 1/2 cup sauce and last set of four noodles. Top the noodles with remaining sauce, 1/2 cup shredded mozzarella and the fresh mozzarella.
Bake lasagna for about 40 minutes or until cheese is melted, bubbly and slightly golden. Let cool slightly. Garnish with shaved Parmesan.
Meanwhile, cut out tombstone shapes of the white bread. Place on a greased baking sheet and bake for about 8 minutes, or until golden. Using hot sauce or ketchup, write RIP onto the front of each of the crispy bread tombs. Position the tombs on top of the lasagna. If you need to, make slits in the top of the melted cheese so they stand upright.
Once the lasagna is cooled, then place the mashed potatoes into a piping bag. Carefully pipe a few ghosts near the tombs on the lasagna. (If the lasagna is too hot, the ghosts will melt.) Add some black olive bits to the tops of the mashed potatoes to make eyes for the ghosts.
Garnish the top of the graveyard with the olive spiders. For some green, stick in a few pieces of rosemary or basil for trees.
More fun & savory Halloween recipes
Spooky ghost pizza
Halloween finger foods
Halloween recipe: Eyeball salad