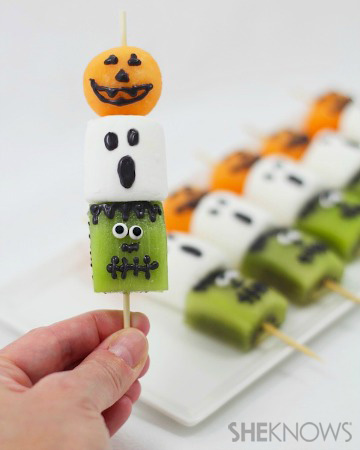 Fun faces ON FRUITY treats
Get the kids to eat a little fruit this Halloween by decorating these kebabs with fun faces.
Take a healthier stab at Halloween party treats with these frightfully fun fruit kebabs. Easy to assemble and accessorize, they'll put the "mmmm..." in monster.
Frightful Halloween fruit kebabs
Ingredients and supplies:
Cantaloupe
Jumbo marshmallows
Kiwi
Small wooden skewers
Melon baller
Black candy melts
Decorator icing eyes — optional (found at most craft or hobby stores)
Piping bag and #1 piping tip (or the smallest round piping tip available)
Directions:
Using a melon baller tool, make round balls of cantaloupe. Cut kiwis into squares of similar size.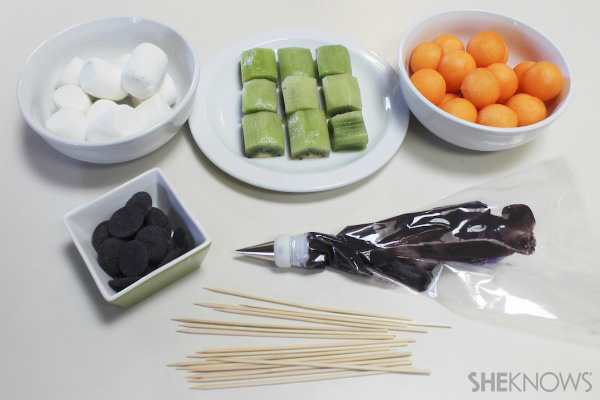 Assemble the fruit kebabs onto small wooden skewers — cantaloupe, marshmallow and kiwi. Put in the refrigerator for an hour to chill.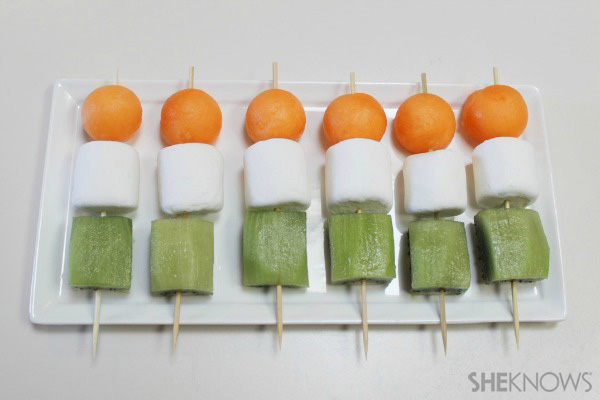 3
Decorate faces with candy melts
Melt black candy melts in the microwave until smooth. Pour into piping bag with small, round piping tip.
With a paper towel, dab off any moisture on the fronts of the fruit kebabs. Pipe black candy melt faces on the fronts of the cantaloupe pumpkins, marshmallow ghosts and Frankenstein kiwis. If using icing eyes on the Frankenstein kiwis, apply a tiny dot of candy melt to the kiwi before adding the eyes.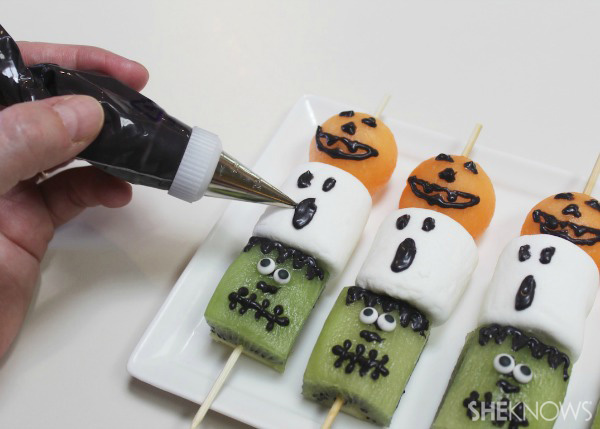 Arrange kebabs on a tray or plate and chill for an hour before serving. These are best if served within 24 hours of preparation.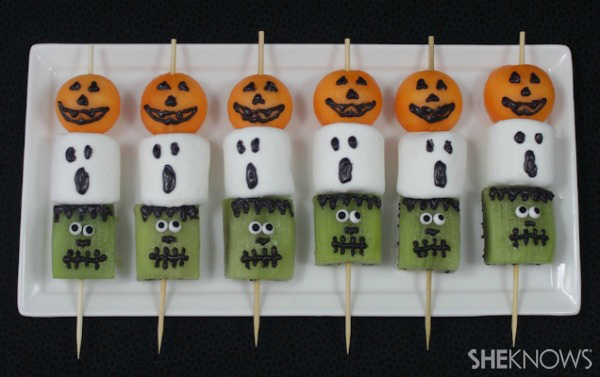 More frightening treats
Bloody severed finger cookies
Cake ball brains with oozing cherry blood
Bloody teeth treats