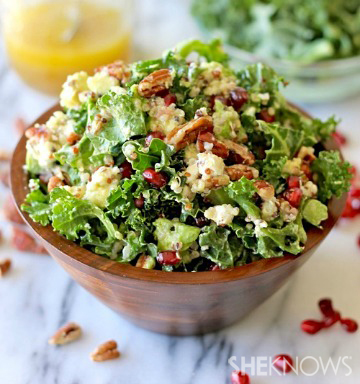 Eat your greens
Kale and quinoa combine in this superfood salad with a zesty Meyer lemon vinaigrette. Healthy eating never tasted so good!
Use two of the trendiest health foods to make this salad topped with creamy goat cheese, nuts and other tasty nibbles.
Kale salad with Meyer lemon vinaigrette recipe
Serves 3-4
Ingredients:
1/4 cup olive oil
1/4 cup apple cider vinegar
Zest of 1 Meyer lemon
3 tablespoons freshly squeezed Meyer lemon juice
1 tablespoon agave
4 cups chopped kale
1 avocado, diced
1/2 cup cooked quinoa
1/2 cup pomegranate seeds
1/2 cup chopped pecans
1/4 cup crumbled goat cheese
Directions:
In a small bowl, whisk together the olive oil, vinegar, Meyer lemon zest and juice and agave.
In a large bowl, add the kale, avocado, quinoa, pomegranate seeds, pecans and goat cheese. Pour the dressing over and gently toss to combine. Serve immediately.
More Daily Flavor
Vietnamese spicy chicken and cabbage salad
Roasted corn, farro and tomato salad
Chinese chicken salad