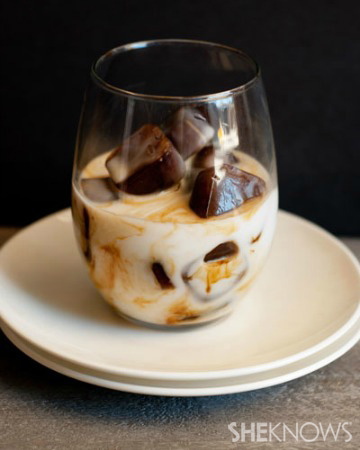 A fall- inspired vegan- friendly drink
This unique combination uses vanilla almond milk that has been sweetened and served chilled with spicy chai tea ice cubes. A must-have for vegans and tea drinkers.
This drink is so delicious even non-vegans will fall in love with it. Creamy vanilla almond milk is sweetened with your choice of sweetener and served icy cold with homemade chai tea ice cubes. This is the perfect combination of sweet and spicy and a wonderful treat for those who exclude dairy from their diets. You can certainly used pre-sweetened almond milk. We just choose to add our own.
Sweet vanilla almond milk with chai tea ice cubes recipe
Inspired by will cook for friends
Serves 4
Ingredients:
Directions:
Add the brewed chai tea to the ice cube tray. Place in the freezer and freeze several hours or until the ice cubes are frozen solid.
In a pitcher, add the almond milk and sweeten with your choice of sweetener (we chose raw agave) mixing well.
Divide the almond milk between 4 glasses. Add several of the chai tea ice cubes to each glass and serve immediately.
Tip
To kick this recipe up, add a shot of amaretto or coffee-flavored liqueur to make a delicious cocktail.
More vegan-friendly recipes
Vegan cake batter ice cream
Vegan fettuccine Alfredo
Vegan asparagus soup