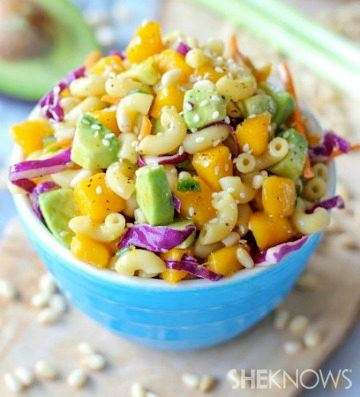 Amp it up with Asian flavors
Put down that bottle of Italian dressing! It's time to change things up with this classic pasta side dish. Asian flavors make this pasta salad pop.
Need a delicious recipe for a potluck? This pasta salad with mango, avocado and soy-sesame dressing will be the first dish emptied!
Asian pasta salad recipe
Serves 4
Ingredients:
8 ounces elbows pasta
2 tablespoons soy sauce
2 teaspoons sesame oil
1-1/2 teaspoons sugar, or more to taste
1/2 teaspoon sesame seeds
1 avocado, halved, seeded, peeled and diced
1 mango, peeled and diced
1 carrot, peeled and grated
1/4 cup shredded red cabbage
1 green onion, thinly sliced
2 tablespoons pine nuts
Kosher salt
Freshly ground black pepper
Directions:
In a large pot of boiling salted water, cook pasta according to package directions. Drain well and reserve.
To make the dressing, whisk together soy sauce, sesame oil, sugar and sesame seeds. Reserve.
In a large bowl, combine cooked pasta, avocado, mango, carrot, cabbage, green onion and pine nuts. Toss with dressing and season with salt and pepper, to taste. Serve immediately.
More Daily Flavor
Grilled vegetable salad with Asian vinaigrette
Tuna, white bean and roasted fennel salad
Roasted corn, farro and tomato salad