Three New Ways To Eat Apples
Apples aren't just for pies, tarts and cakes, dear friends. In fact, some of our favorite recipes using this sweet fruit aren't actually sweet at all! These amazing savory recipes showcase the apple in a whole new, equally delicious way.
Now, we aren't saying you can't still enjoy the occasional pie, but add some variety to your fall cooking and baking by indulging in one of these recipes, too. From stuffed Galas to cheddar bread made with Granny Smiths, you may never look (or crave) the apple the same way again!
Green apple & Gruyere pizza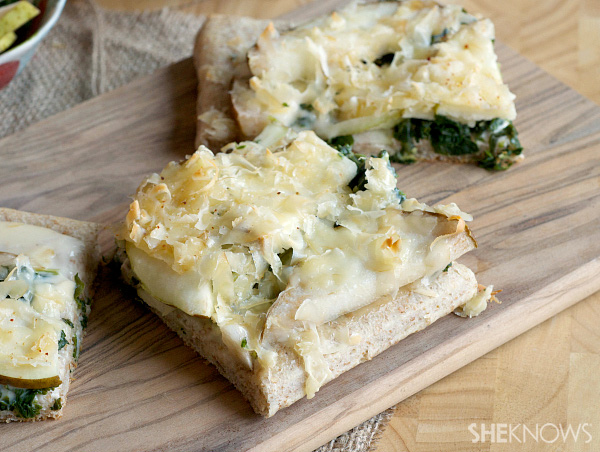 Serves about 8
Ingredients:
1 pizza dough
1/2 cup Alfredo sauce
1 green apple, sliced
About 3/4 cup kale
1/2 cup shredded Gruyere cheese
1/4 cup shredded mozzarella cheese
1/4 cup shredded Parmesan cheese
Salt and pepper to taste
Directions:
Preheat oven to 400 degrees F. Prebake crust for about 8 minutes or until golden.
Top crust with Alfredo, apple slices, Gruyere, mozzarella and salt and pepper. Sprinkle the top with Parmesan cheese and bake for 6 more minutes, or until cheese is melted.
Cheddar apple quick bread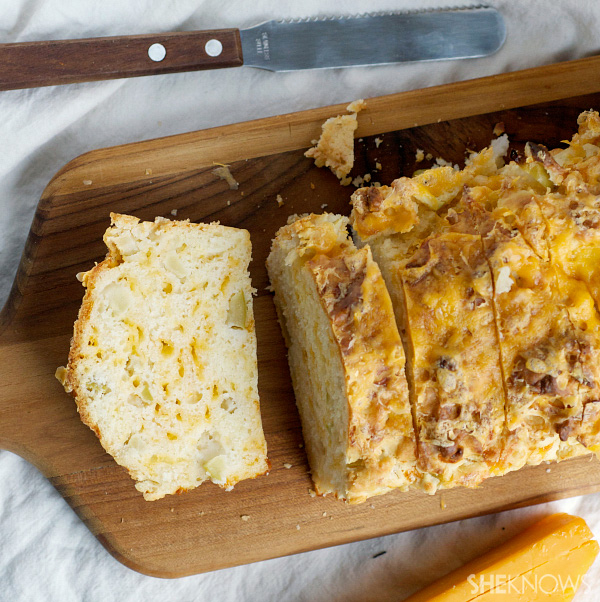 Recipe inspired by Everybody Likes Sandwiches
Yields about 8 slices
Ingredients:
1-3/4 cups all-purpose flour
2-1/2 teaspoons baking powder
Dash of salt
1 cup chopped apples (we used Granny Smith)
1/3 cup vegetable oil
2 tablespoons sugar
1 large egg
1/2 cup milk
1/4 cup heavy cream
1 cup sharp cheddar + 1/4 cup, shredded
Directions:
Preheat oven to 400 degrees F. Grease a standard size loaf pan with nonstick cooking spray. Set aside.
In a large bowl, whisk the flour, baking powder and dash of salt together. Mix in the vegetable oil, sugar, egg, milk and heavy cream. Gently fold in the 1 cup cheddar cheese and chopped apples.
Pour batter into the prepared baking dish. Bake for about 40 minutes, or until golden brown. Sprinkle the top with the 1/4 cup cheese and bake for another 6 minutes or until cheese is melted. Serve immediately.
Sausage-stuffed Gala apples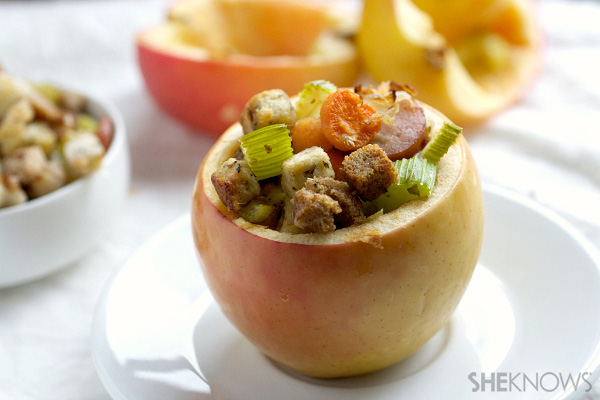 Serves about 5
Ingredient:
1/2 medium onion, chopped
1 celery stalk, chopped
1 large carrot, chopped
1-1/2 tablespoons butter
5 large Gala apples
1-1/2 cups herb stuffing mix
1/3 cup chicken broth
1-1/2 chicken sausages, sliced
Salt and pepper
1-1/2 tablespoons Italian seasoning
Parmesan cheese for garnish
Directions:
Preheat oven to 350 degrees F. Grease a baking pan with nonstick cooking spray.
Cut the tops of each apple and scoop out the insides using a spoon. Set aside.
Meanwhile, melt butter in a large skillet over medium heat. Add onion, celery and carrots; cook until soft and fragrant, about 4 minutes. Stir in the chicken broth, chicken sausage, salt, pepper and Italian seasoning.
Stuff each apple with stuffing mixture. Place on the baking pan and bake for about 20 minutes or until apples are soft. Garnish with Parmesan cheese.
More savory fruit recipes
Sweet and savory turnover recipes
Sweet and savory baked dates recipe
Tonight's Dinner: Savory baked apples recipe