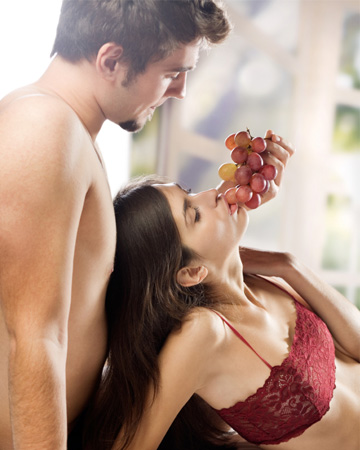 Eat well & love well
Sexual stamina is more than just "being in the mood." There are lots of ways that you get ready for a night of passionate lovemaking, but once the activity starts, it can be over all too quickly. Though it's often seen as a man's issue, eating the right foods can help both men and women get into the zone and stay there longer, for more intense, passionate, and longer-lasting sex.
Make your intimate moments longer, stronger and hotter
A general note on nutrition
Without delving too far into it, literature from WebMD to Discovery Health agrees that the best diet for sex is one that leads to a healthier lifestyle. The healthier the body, the better it will function as it's "exercising," but more importantly, you'll feel better about yourself. Research shows that most of the blocks to great sex (in healthy sexually active adults) are mood, not food. Stay fit, and you'll feel better about yourself and have better sex. (However, never forget that your partner loves how you look anyway.)
It can be easy to forget that at its heart, sex is a cardio workout, kind of like going for a run or hitting the elliptical. Just like someone getting ready to go the gym or an athlete getting ready to run a marathon, proper nutrition is essential to getting the sexiest results possible. Fortunately, just like sports nutritionists have identified optimal meals for the best results in a run, nutritionists have also discovered foods that will boost your sexual stamina.
The good news is that each of these foods are delicious as well giving you and your partner the endurance to keep the love on. The better news is that unlike running a marathon, you'll really love trying these foods and seeing the results for yourself.
Now for some specific food tips.
1
Foods rich in vitamin B-12
Any food rich in vitamin B-12 is going to help the body with energy production and with so many options to choose from, it's easy to get more B-12 into your diet. These options include eggs, shellfish, beef, caviar and fortified tofu.
Once you've had your B-12 feast, you can expect increased blood circulation and strength. It also helps to elevate mood.
The myth about oysters being good for you in bed is actually true! Oysters are high in zinc, which stimulates testosterone, a hormone useful for building and maintaining desire in both men and women. They also deliver amino acids which have been linked to sexual desire and omega-3s which help keep you in the mood. They also have lots of B-12!
Still, in perhaps the unsexiest article on sex diet, WebMD does caution that eating raw shellfish can lead to food poisoning, so only get your raw oysters from reputable sources. Nothing says unsexy diet like tummy trouble.
Watermelon is packed with citrulline, a natural chemical which helps the body increase oxygen flow in the blood. If possible, try to find a way to mix watermelon with garlic and/or ginger, both of which are found to cause blood to flow into the private parts in both women and men.
Is there anything chocolate can't do? In particular, dark chocolate, while already being sexy on its own, helps release chemicals in the brain which lead to euphoria. This can help lead to a prolonged sexual experience. They're also packed with antioxidants which generally make the body perform better.
Grapes (and beans, but who wants beans in the bedroom?) are high in boron, a chemical that helps produce both estrogen and testosterone. Both of these hormones have been shown to aid men and women in bedroom performance: estrogen for libido in women and testosterone for physical stamina of any kind in both men and women. Not only that, but the shape of a bunch of grapes is a little suggestive, making them sexy snacks during intimate moments.
Keeping the bedroom sexy
Food & Sex: Increase you sexual appetite with this diet
Healthy foods to improve your sexual health
5 Foods to increase your libido