Savory brunch dish
Roasted tomatoes, garlic and other bold flavors make this frittata the star of your brunch spread.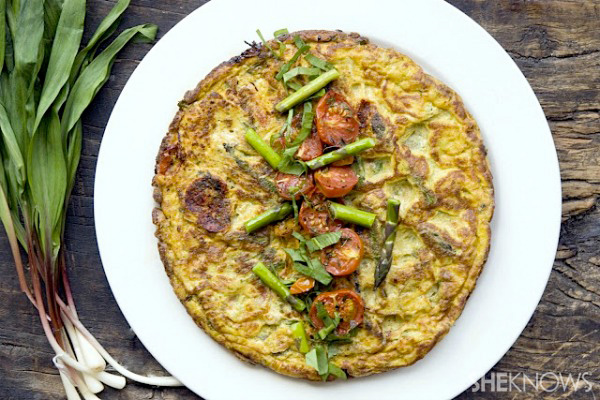 Make the roasted tomatoes and garlic ahead of time for easy prep the morning of your brunch.
Roasted tomato frittata recipe
Serves 4-6
Ingredients:
1 pint cherry tomatoes
2 teaspoons chopped fresh thyme
1 head garlic
Small bunch asparagus, cut into 1-inch pieces
6 large eggs
Small handful sorrel, thinly sliced (can substitute spinach or arugula)
2 chipotle peppers in adobo sauce, minced
Crumbled feta
Sea salt
Freshly ground black pepper
Extra-virgin olive oil
Directions:
Preheat oven to 300 degrees F.
Slice the tomatoes in half. Place on a rimmed baking sheet. Drizzle with olive oil and sprinkle with thyme, salt and pepper. Roast for about 1 hour, 15 minutes.
At the same time, cut off the top of the head of garlic. Place remaining bottom on a sheet of foil, drizzle with olive oil and season with salt and pepper. Wrap up tightly in foil. Place in oven and roast with the tomatoes until tender.
After the tomatoes and garlic are roasted, heat 1 tablespoon olive oil in a 9-1/2-inch skillet over medium heat. When hot, add the asparagus, season with salt and pepper and saute until just tender, about 3-4 minutes.
Preheat the broiler.
Whisk the eggs in a large bowl. Add the tomatoes, 4-5 cloves roasted garlic, asparagus, sorrel, chipotle peppers and feta. Season with salt and pepper.
Add another 1 tablespoon olive oil to the skillet. When the skillet is very hot, add the egg and vegetable mixture. After 30 seconds, turn the heat down to medium-low. Cook until almost set, about 6-7 minutes, then place under the broiler until golden brown, about 3-4 minutes.
More Daily Flavor
Creamy goat cheese polenta with herb pesto
Cinnamon pecan sticky buns
Boozy affogato