Move Over Peanut Butter Cookies
If you love peanut butter cookies, you are going to love these almond butter cookies even more. Almond butter replaces the peanut butter and maple syrup replaces white sugar, These crispy on the outside, chewy on the inside cookies are seriously addictive.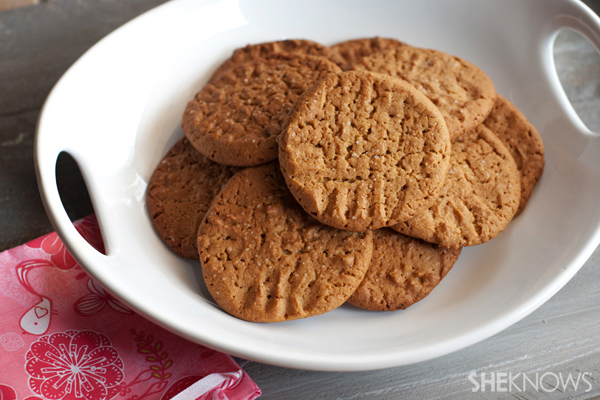 We love cookies, and we love almond butter. So why not combine the two in a fun, healthier twist on peanut butter cookies. Sprinkling the tops with a little bit of sea salt really helps bring out the maple and almond flavors in these delicious cookies.
Maple almond butter sea salt cookie recipe
Yields 12-18 cookies (depending on size) 
Ingredients:
1-1/2 cups almond flour
1/2 teaspoon baking powder
1/2 teaspoon baking soda
1/4 teaspoon sea salt plus extra for garnish
1 cup almond butter
1/2–3/4 cup pure maple syrup (depending on desired sweetness)
2 teaspoons maple or vanilla extract
1 egg
Directions:
Preheat the oven to 350 degrees F and line a large cookie sheet with parchment paper.
In a mixing bowl, add the almond flour, baking powder, baking soda and 1/4 teaspoon of sea salt. In a separate bowl, add the almond butter, maple syrup, the egg and maple extract, mixing well.
Add the wet ingredients to the dry ingredients and mix very well. Using a spoon, form dough into balls keeping them uniform in size. Place them about 2 inches apart on a cookie sheet. With the bottom of a glass gently press the cookie down to flatten it out slightly (or use a fork to create a traditional design) and sprinkle each cookie with a pinch of sea salt.
Bake 10-12 minutes or until golden brown. Watch carefully so they do not burn. Remove from the oven and allow to cool. Store in an airtight container for up to 4 days.
More delicious cookie recipes
Good-for-you lunch box cookies
Mint chocolate chip cookies
Lemon scented linzer cookies