An apple a day...
Drinking hard apple cider is obvious, but did you also know you can cook with it? Try one of these creative sauces, salads, entrees or desserts and don't forget to pair it with a chilled hard cider.

1
Angry Orchard Crisp Apple BBQ sauce recipe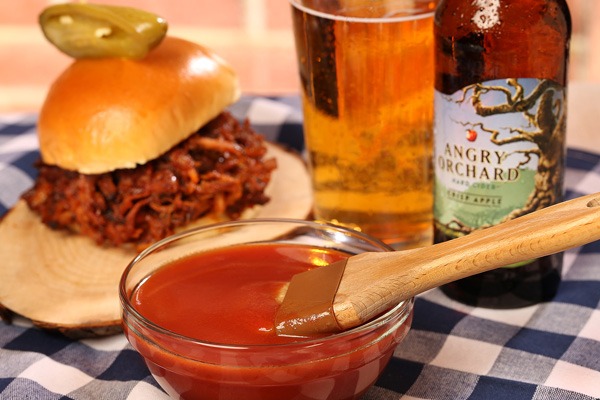 Yields approximately 5 cups
Ingredients
2 tablespoons butter
1 large white onion, chopped
2 cloves garlic, chopped
1 bay leaf
1 tablespoon paprika
1/2 teaspoon cayenne
2 bottles Angry Orchard Crisp Apple Cider
1 can (28 ounces) tomato puree
1 lemon, zest and juice
2 ounces molasses
2 ounces Worcestershire sauce
4 ounces ketchup
Salt and pepper, to taste
Directions:
Notes from Chef Andrew: Including both reduced and regular Angry Orchard Crisp Cider helps provide both a slight acidity and general sweetness (respectively) to a solid tomato-based barbecue sauce. There are very few things that this sauce will not work with, and. as long as the weather's warm, this should be a staple in the fridge of any Angry Orchard enthusiast.
Melt the butter in a heavy-sided pan. Add the onion and garlic and cook over a medium heat until tender.
Add bay leaf, paprika and cayenne, and cook for 30 seconds, stirring continuously.
Add 1 bottle Angry Orchard Crisp Apple Cider, increase heat to high and cook, stirring occasionally, until liquid is nearly gone.
Add remaining ingredients, bring to a simmer, then reduce heat to low and cook, stirring occasionally, for 1 hour, or until sauce has thickened slightly.
Season with salt and pepper and chill, or baste over grilled meats.
2
Grilled corn salad with Angry Orchard
Apple Ginger dressing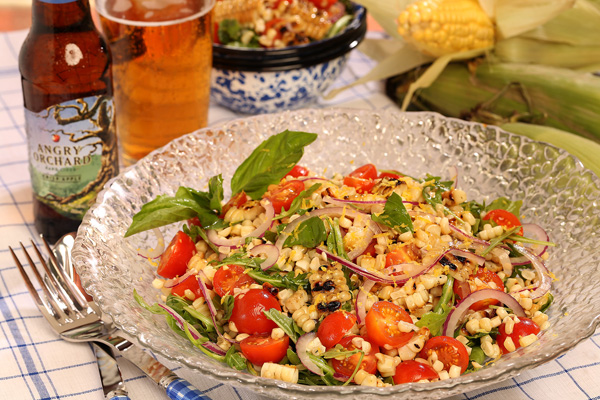 Ginger notes from the Angry Orchard Apple Ginger pair surprisingly well with the roasted corn and torn fresh basil. The red onion brings a brightness to it, and the effervescence of a vinaigrette made with the ginger cider helps to keep flavors fresh.
Serves 4
Ingredients:
4 ears corn, shucked
1 cup cherry tomatoes, halved
1/4 cup thin sliced red onion
1 cup baby arugula
1/4 cup basil leaves, torn
Zest of 1 lemon
1/4 cup Angry Orchard Apple Ginger Cider
6 tablespoons olive oil
Salt and pepper, to taste
Directions:
Preheat the grill.
Rub corn with 2 tablespoons of olive oil. Grill until lightly charred. Set aside to cool slightly.
When cool enough to handle, cut corn off cob.
Add to a bowl with onion, arugula and basil leaves.
In a small bowl, whisk together lemon zest, cider and remaining olive oil.
Dress salad, season with salt and pepper and serve immediately.
3
Cider can chicken recipe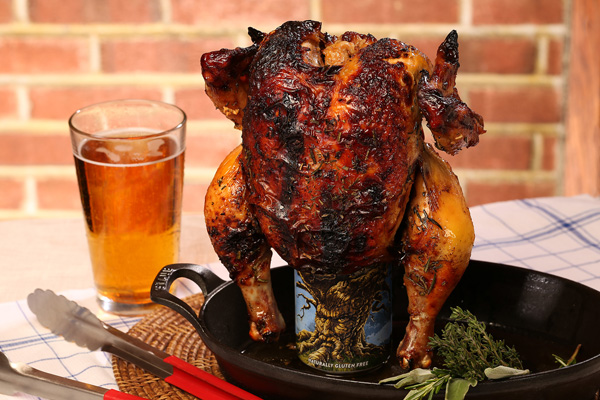 Serves 3-4
Ingredients:
1 (3-4 pound) roasting chicken
2 cans Angry Orchard Crisp Apple Cider, room temperature
2 tablespoons kosher salt
1 tablespoon sugar
2 tablespoon chopped fresh herbs
3 cloves garlic, finely chopped
2 ounces olive oil
Pepper, to taste
Directions:
The day before, brine the chicken:  Dissolve 1 tablespoon kosher salt and 1 tablespoon sugar in one can of Angry Orchard Crisp Apple Cider. Mix in 1 tablespoon chopped herbs and 1 clove chopped garlic. Submerge chicken in brine overnight, adding water (or cider) if necessary.
Preheat oven to 300 degrees F, or light a grill and set to low heat.
Remove chicken from brine, rinse thoroughly and pat dry.
In a small bowl, whisk together 4 ounces of Angry Orchard Crisp Apple Cider, remaining herbs (whatever you can get your hands on, thyme, sage and rosemary are good options), remaining garlic, and olive oil.
Rub dressing all over chicken and season liberally with remaining salt and pepper.
Stand chicken straight up and nestle firmly on top of can; the chicken should remain vertical.
Place chicken in a wide roasting pan or directly on the grill, and cook until the juices run clear and chicken is cooked through, about 30-40 minutes. Cooking times will vary based on heat and method.
Remove chicken from the oven and let rest for 10 minutes. Carefully remove the can of cider, and serve.
4
Ginger-Cider cookies with apple cider frosting
Gingerbread cookies are a quintessential part of the holiday season, and the apple tones help round out the sharp ginger flavor. The cookies are great on their own, but the frosting adds a different texture to it all.
Makes approximately 2 dozen cookies
Ingredients:
2 cups all-purpose flour
2 teaspoons ground ginger
1/2 teaspoon cinnamon
1/4 teaspoon fine salt
1 teaspoon baking soda
3/4 cups butter, at room temperature
1 cup white sugar
1 egg
1 ounce Angry Orchard Apple Ginger Cider
2 ounces molasses
Directions:
Preheat oven to 350 degrees F.
Sift together flour, ginger, cinnamon, salt and baking soda. Set aside.
In a mixer, cream butter and sugar until light and fluffy. Add in egg, cider and molasses, and beat to combine.
Gradually beat in the dry mixture until dough comes together.
Roll dough into ping-pong size balls and bake on greased baking sheet. Bake for 10 minutes.
Remove from oven and let cool.
Frosting:
4 ounces Angry Orchard Apple-Ginger Cider
2 ounces butter
2 cups confectioners' sugar
Pinch of fine salt
Directions:
In a saucepan, reduce cider by half. Let cool.
Melt butter, place in a mixing bowl, and mix in confectioners' sugar, cider and salt.
As frosting sets and thickens, continue to whisk and/or add a few drops more cider to maintain consistency.
Frost cookies with homemade frosting.
More cooking with alcohol
Indulgent desserts made with beer
Beer macaroni and cheese recipe
Lemon beer loaf cake