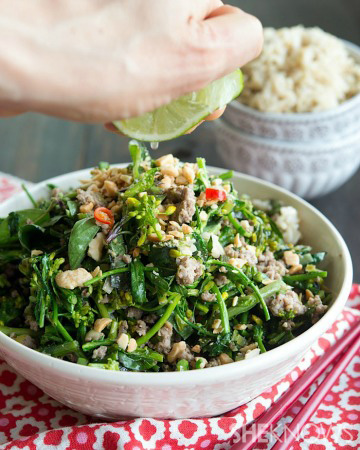 Quick and easy stir-fry
Heat up that wok and get cooking! This lamb and flowering rabe stir-fry is bursting with flavor and will be on your table in minutes.
We've all had broccoli rabe, but did you know that you can eat it while it's flowering? Take advantage of those gorgeous seasonal bunches of rabe and stir-fry them with plenty of bold ingredients. If you can't find flowering rabe, substitute any kind of regular rabe.
Ground lamb and flowering rabe stir-fry recipe
Serves 2-4
Ingredients:
2 tablespoons fish sauce
Juice of 1/2 a lime, plus wedges for serving
1 teaspoon honey
2 tablespoons olive oil
5 green onions, thinly sliced
1-2 red Thai chilis, thinly sliced
1 pound ground lamb
Large bunch (about 12 ounces) flowering (turnip, kale, collard, mustard or broccoli) rabe, chopped
Large handful of Thai basil, roughly chopped
Chopped cashews, peanuts or Marcona almonds, for garnish
Cooked brown rice, to serve
Directions:
In a small bowl, combine fish sauce, juice of 1/2 a lime and honey. Whisk well. Set aside.
Heat the olive oil in a wok over high heat. When smoking hot, add the green onions and chilies and saute for 1-2 minutes until just wilted. Add the ground lamb and cook until nicely browned. Add the flowering rabe and continue cooking for a few more minutes until tender. Remove from heat
Pour in the reserved fish sauce mixture. Toss to combine. Add basil.
Serve topped with chopped nuts with brown rice and lime wedges on the side.
More Daily Flavor
Beef lemongrass sliders
Steak and vegetable stir-fry with brown rice
Vietnamese pork meatballs in lettuce cups