A taste of India
Skip the take-out and make Indian food at home. Red lentil coconut curry soup is full of flavor and will satisfy all your curry cravings.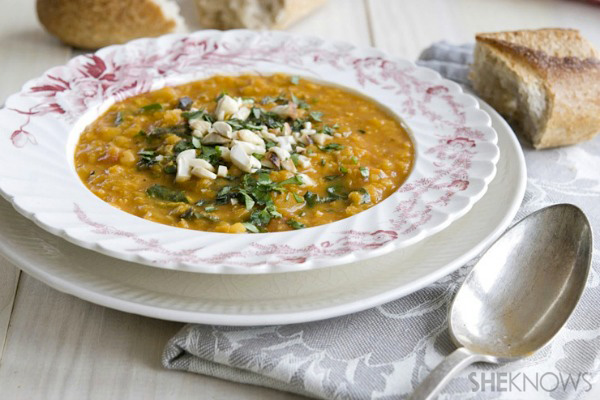 Make this soup extra-spicy by using hot curry or extra cayenne pepper. To toast your own spices, simply add the seeds to a dry skillet and heat until aromatic. Remove from heat and grind by hand with a mortar and pestle or in a coffee grinder dedicated to grinding spices.
Red lentil coconut curry soup recipe
Serves 6
Ingredients:
2 tablespoons olive oil, coconut oil or ghee
1 large yellow onion, chopped
4 garlic cloves, minced
1 tablespoon fresh grated ginger
1/2 teaspoon sea salt, plus more to taste
2 teaspoons cumin seeds, lightly toasted and ground
2 teaspoons coriander seeds, lightly toasted and ground
2 tablespoons Indian curry powder (we used Vadouvan spice blend)
1/2 teaspoon ground turmeric
1 (28 ounce) can chopped tomatoes with juices
1 pound red lentils, washed and picked over
2 quarts water, vegetable or chicken stock
Freshly ground black
Cayenne pepper
2 large handfuls Swiss chard leaves, chopped
1 (14 ounce) can coconut milk
Juice of 1/2 lime
Chopped cilantro
Toasted cashews, chopped
Directions:
Heat the oil in a large soup pot over medium-high heat. Add the onion and cook until tender, about 5 minutes.
Add the garlic, ginger, salt, ground cumin and coriander, curry powder and turmeric. Stir until fragrant, about 1 minute. Add the canned tomatoes with their juices. Taste and add more salt, if needed.
Stir in the lentils and water or stock. Bring to a boil, reduce heat, cover and simmer for 40 minutes. Season with black and cayenne pepper, to taste.
Add the Swiss chard, coconut milk and lime juice. Cook until the chard is wilted and the coconut milk heated through, about 3 minutes.
Ladle into bowls. Top with cilantro and cashews.
More Daily Flavor
Salsify oyster bisque
Yellow tomato lemongrass soup with mussels
Butternut squash and roasted garlic bisque