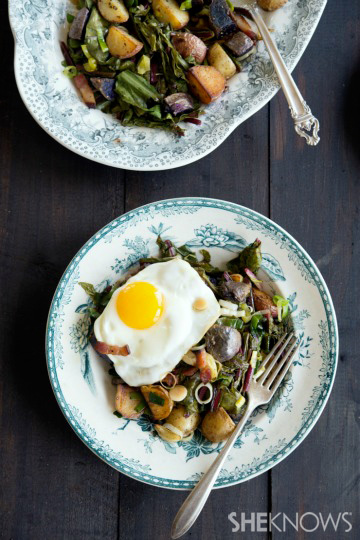 Potato salad goes green
Don't know what to do with that bunch of dandelion greens from your CSA box? Add them to this roasted potato salad for tons of nutrients and color.
Forget the goopy, mayonnaise-laden deli salad. This warm roasted potato salad tossed with sherry vinegar, dandelion greens and bacon will be your new favorite recipe! For color and variation, use a mixture of small red, white and purple potatoes.
Warm dandelion greens potato salad recipe
Adapted from Cooking Channel
Serves 2-4
Ingredients:
3 tablespoons extra-virgin olive oil
8 small potatoes, halved or quartered (depending on their size)
Sea salt
Freshly ground black pepper
3 cloves garlic, smashed and peeled
4 ounces thick-cut applewood smoked bacon
1 large bunch dandelion greens, washed and cut into 3-inch pieces
2 baby leeks, washed and thinly sliced
1/2 teaspoon hot smoked paprika
1/4 cup sherry vinegar
Fried egg to top (optional) 
Directions:
In a large Dutch oven, heat olive oil over medium-high heat. Add the potatoes to the pot in a single layer and season with salt and pepper. Cook the potatoes until golden brown and crispy on the exterior and tender on the interior, 10 to 15 minutes. Add the garlic during the last 5 minutes of cooking, making sure the garlic doesn't burn.
Meanwhile, cut the bacon into 1/2-inch-wide pieces. In another pan, cook bacon over medium heat, stirring occasionally, until is just crisp. Add the leeks and cook 1-2 minutes more.
When the potatoes are done, add the bacon and leeks to the potatoes using a slotted spoon, reserving the bacon fat in the pan. Off the heat, add the dandelion greens to the reserved fat. Add the smoked paprika, sherry vinegar and quickly toss to coat.
Add the dandelion greens mixture to the potatoes and toss to combine until the greens are just wilted.
Top with fried egg, if using.
More Daily Flavor
Arugula and quinoa salad
Greek garbanzo bean salad
Cilantro lime jicama salad