Use up those tots
Buffalo-spiced chicken and crispy tater tots. What's not to love? This dish is full of spice, and the kids will be begging for seconds.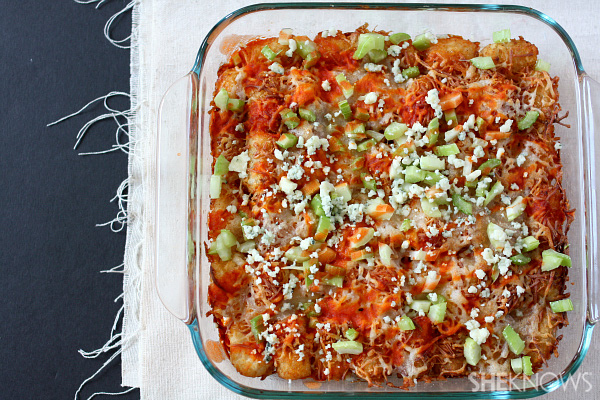 We have taken the classic Midwest favorite tater tot casserole and given it a spicy twist. Buffalo sauce gives this dish a tangy zip and the addition of blue cheese just puts it over the top.
Buffalo chicken tater tot casserole recipe
Slightly adapted from The Black Peppercorn
Yields 9 x 13-inch dish
Ingredients:
2 pounds boneless skinless chicken breasts
Olive oil
Salt and pepper, to taste
3/4 cup unsalted butter
1 cup Frank's RedHot sauce
3 cloves garlic, minced
1/3 cup blue cheese
1 bag tater tots
1 cup shredded pepper jack cheese
1/2 cup diced celery
Directions:
Preheat oven to 350 degrees F.
Rub down chicken breasts with a little olive oil, salt and pepper. Roast for about 30-40 minutes until the chicken is fully cooked. (Leave the oven on.)
Let the chicken sit for 5 minutes and finely chop or shred the chicken. Depending on what texture you desire. (Be careful, the chicken will be very hot. You can also do this step the day before.)
Once chicken is cooled and chopped, it's time to put the casserole together.
In a large skillet melt butter over medium heat. Once melted whisk in Frank's RedHot and minced garlic. Gently whisk for about 1 minute and then remove from the heat. Pour 1/3 cup of the sauce into a measuring cup and set aside.
Add chicken to the remaining sauce in the pan and mix together to evenly coat. Add sauced chicken to the bottom of a 9 x 13-inch casserole dish.
Sprinkle the mixture with blue cheese.
Top the chicken with tater tots. Lay them out in a little rows evenly covering the top of the chicken.
Top with shredded cheese and bake for about 45 minutes until the cheese is melted and the chicken and tater tots are hot. Drizzle the remaining 1/3 cup sauce over the finished dish and serve.
More casserole recipes
Eggs Benedict casserole recipe
Bacon and cheese bread pudding recipe
Chicken cordon bleu pasta casserole recipe