Grown-up mac and cheese
We are getting a little more grown up with our mac and cheese. With the addition of Philly cheesesteak filling, you turn this once-boring dish into a dinnertime staple.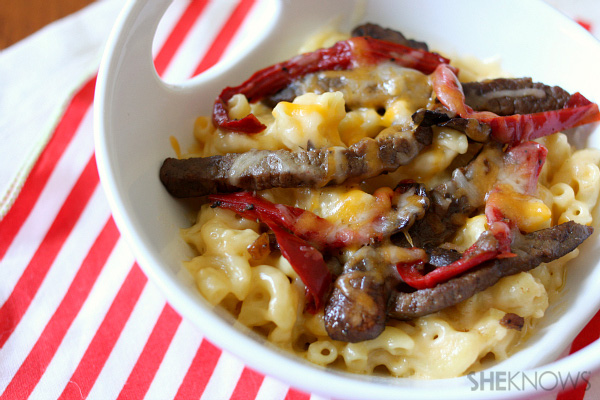 This mac and cheese is over the top! If you thought Philly cheesesteak was just a sandwich, wait till you take a bite of this decadent dish. Fresh sauteed red bell peppers, onions, mushrooms and steak all combine with creamy mac and cheese to send your taste buds into flavor overload.
Philly cheesesteak mac and cheese recipe
Yields 9 x 13-inch dish
Ingredients:
1 pound elbow macaroni pasta
2 tablespoons butter
2 tablespoons flour
2 cups whole milk
1-1/2 pounds shredded cheese (We like a mix of sharp cheddar, colby jack and mild cheddar)
2 pounds thinly sliced sirloin steak
1 large red bell pepper, sliced
1 medium yellow onion, sliced
1 pound mushrooms, sliced
Directions:
Over medium heat, bring a large pot filled with water to boiling.
Once boiling add a pinch of kosher salt and add pasta. Cook until al dente, following box directions.
Drain pasta once cooked and start making the sauce.
In a large skillet add butter over medium heat. Let the butter melt and then whisk in flour until you get a paste-like texture.
Slowly add in milk and whisk to combine. If you do not do this slowly enough, you will end up with flour chunks. This step takes several minutes since you want the mixture to be very smooth.
Once all the milk is in the pan, whisk and let the mixture start to thicken. Once the mixture is thick enough to coat the back of a spoon, add in 1 pound of the shredded cheese. Stir until smooth.
Stir in pasta and combine.
Pour mac and cheese into a 9 x 13-inch glass dish and set aside while you quickly make the steak portion.
At this point preheat your oven to 350 degrees F.
In a large skillet add 2 tablespoons olive oil and set over medium heat.
Once oil is hot add in peppers, onions and mushrooms. Cook for a few minutes until soft but not falling apart. Add in sliced meat and cook for 1-2 minutes more. The meat will cook quickly.
Cover the mac and cheese with the steak mixture.
Sprinkle remaining 1/2 pound cheese over the steak mixture.
Bake for about 15 minutes in order to let the dish heat throughout and to melt the cheese on top.
More mac and cheese recipes
Crawfish mac and cheese recipe
Roasted poblano mac and cheese recipe
Four cheese mac and cheese cups recipe