Holy mashed potatoes
These mashed potatoes are packed full of flavor. You won't believe how easy they are to make and how amazing they taste.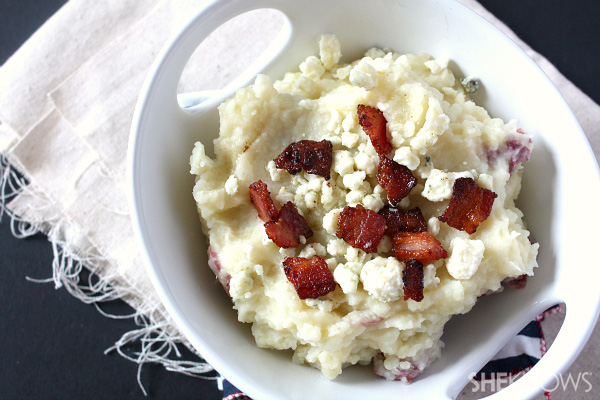 Mashed potatoes are delicious but we have taken them to a whole new level. We paired this classic comfort food with tangy buttermilk, crispy bacon and sharp blue cheese. This is your new favorite side dish.
Buttermilk, blue cheese and bacon mashed potatoes recipe
Serves 4
Ingredients:
1-1/4 pounds baby red skinned potatoes
1/2 teaspoon kosher salt
3/4 cup buttermilk, warmed
1 tablespoon unsalted butter
1/3 cup blue cheese
6 slices bacon, cooked and crumbled
Directions:
In a large pot add potatoes and cover with water. Bring to a boil and cook until they are fork tender but not falling apart.
Drain potatoes once they are fully cooked.
In the same pot, add the drained potatoes and start mashing with a hand masher. Add in salt, buttermilk and butter and mash. Once you reach your desired consistency start stirring to make the potatoes smooth.
Stir in blue cheese and bacon.
Serve warm.
Note
For an even smoother potato, you can use an electric mixer instead of a hand masher.
More potato recipes
Grilled sweet potato salad recipe
Loaded baked potato rounds recipe
Salt and vinegar sweet potato chip recipe