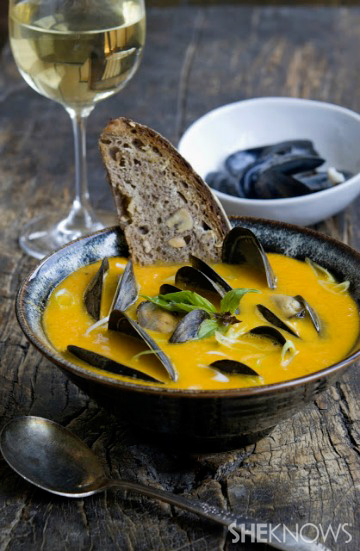 A bowl full of fresh flavors
If tomatoes are taking over your garden, whip up a rich seasonal soup spiked with mussels to use up some of your bounty.
Whether it's hot or cold outside, this summery soup will hit the spot and fill you up with one big bowl. Substitute red tomatoes if you can't find yellow... it will still taste just as good!
Yellow tomato lemongrass soup with mussels recipe
Serves 4
Ingredients:
2 tablespoons coconut oil
3 tablespoons extra-virgin olive oil, divided
1 medium yellow onion, minced
3 cloves garlic, sliced
1-inch piece of ginger, grated
6 (about 3 pounds) large yellow-orange tomatoes, cored and quartered
1 quart lemongrass stock (see recipe below)
12 Thai basil leaves
Sea salt
Freshly ground black pepper
2 pounds mussels
Thinly sliced green onion, sliced on a bias (for garnish)
Directions:
In a large pot, heat coconut oil and 1 tablespoon of olive oil over medium heat. Add the onion, garlic and ginger. Cook until the onion is translucent. Stir in the tomatoes and cook for 5 minutes.
Pour in the lemongrass stock and add the basil leaves. Season to taste with salt and pepper.
Bring to a simmer. Simmer for 10 minutes and then puree in a blender, adding the remaining 2 tablespoons of olive oil, as needed, until the soup is smooth. Add more salt and pepper to taste.
Return the soup to the pot. Bring to a simmer, add the mussels and cover. Cook until the mussels open. Discard any mussels that do not open.
Ladle into bowls. Top with sliced green onion.
Lemongrass stock recipe
Makes 1 quart
Ingredients:
4 stalks lemongrass, dried outer leaves removed
1 yellow onion, sliced
8 thin slices ginger
10 sprigs cilantro
1/2 teaspoon salt
1 teaspoon coriander seeds
6 cups cold water
Directions:
Place the lemongrass on a hard wooden surface and pound gently (with the bottom of a sauce pot or rolling pin) to release its oils.
In a stockpot, combine all the ingredients. Bring to a boil, reduce to a simmer and cook uncovered for about 40 minutes.
Pour the stock through a strainer, pressing as much liquid as possible from the solids before discarding them.
More Daily Flavor