Comfort food for any season!
Our seafood shepherd's pie was made using a combination of fresh cod and bay scallops. Halibut, lobster, shrimp and salmon all come to mind as suitable additions and/or substitutions!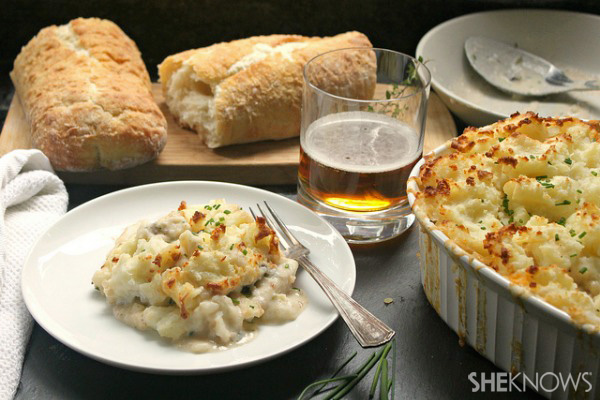 We provided one of our mashed potato recipes here, but obviously you can use leftover mashed potatoes or your own favorite recipe! This shepherd's pie is even better the next day… just loosely cover with aluminum foil, reheat and serve!
Seafood shepherd's pie recipe
Serves about 6-8
Ingredients:
For the mashed potato topping
2-1/2 pounds Russet potatoes, scrubbed, peeled and cut into 2-inch pieces
Kosher salt
3 tablespoons butter, cubed
1/2 cup heavy cream
1/2 cup milk
For the filling
3 tablespoons butter (divided 2 and 1)
1/4 cup shallot, diced
1/2 cup celery, diced
8 ounces sliced baby portabella mushrooms
6 fresh thyme sprigs, leaves stripped
1-1/2 cups cream (or 1 cup cream and 1/2 cup milk)
1 cup dry white wine
3 tablespoons flour, scant
1 teaspoon salt
1/2 teaspoon dried mustard
1/4 teaspoon cayenne pepper
1-1/4 pounds fresh cod, pinbones removed and cut into 1-2 inch pieces
1 pound bay scallops
1/2 teaspoon smoked paprika (regular is fine too)
2 tablespoons flat-leaf parsley, chopped
1 tablespoon fresh lemon juice
Fresh chopped chives for garnish
Directions: 
Make mashed potatoes
Bring potatoes to a boil and cook until fork tender, about 15-20 minutes. Drain potatoes and return them to the same pot. Add a hefty pinch of kosher salt. Add butter, cream and milk and smash potatoes using a potato masher until smooth (a somewhat lumpy consistency is fine and adds to the texture of the dish). Taste, add additional salt if needed. Set aside.
Make filling
Preheat oven to 400 degrees F. In a large saute pan, melt 2 tablespoons of butter over medium heat. Add shallots, celery, mushrooms, thyme, a pinch of salt and cook, stirring often, until soft and fragrant, about 5-8 minutes. Turn off heat and set aside.
In a medium-size pot, over medium heat, add cream, white wine, flour, salt, dried mustard and cayenne pepper. Whisk together to incorporate all ingredients. Bring to a boil, whisking often. Once boiling, turn down heat to low and continue cooking, whisking often, until thick, about 8 minutes. Turn off heat and add the remaining tablespoon of butter and the shallot, celery, mushroom mixture to the cream sauce. Stir together well, taste and adjust seasoning if needed then set aside.
Spray a large casserole dish with sides with cooking spray. Place cod and scallops on the bottom of the dish in an even layer. Sprinkle with smoked paprika and parsley. Add lemon juice and a nice pinch of salt and pepper. Pour prepared cream sauce over the seafood. Top evenly with mashed potatoes. Place in the oven for 25 minutes. When finished, sides should be bubbly and potato peaks should be browning. Top with fresh chopped chives if desired. Allow to sit and set 10-20 minutes before serving with crusty bread.
TIP
You may want to place a roasting pan (larger than that of your casserole dish) under the casserole dish while cooking, the pan will catch any juices that may bubble over during cooking, keeping your oven clean.
More seafood recipes
Oven baked crabcakes
Parmesan and almond crusted cod
Steamed clams with white wine butter sauce recipe