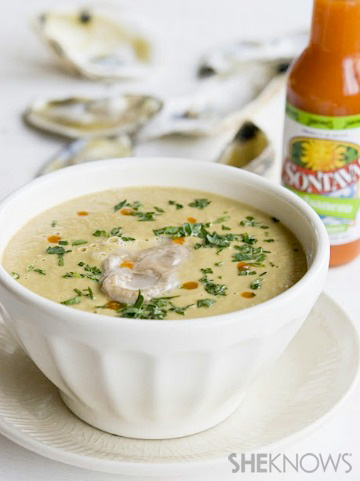 A unique root vegetable soup
This salsify oyster bisque might take you outside your comfort zone, but we think you'll love the combination of unique ingredients.
Never heard of salsify? You're not alone. Salsify is an old-fashioned root vegetable with a delicate flavor that some say has a slight oyster essence, while others compare it to artichoke hearts. Either way, it pairs perfectly with the oysters in this sumptuous bisque. If you can't find salsify, try substituting sunchokes.
Salsify oyster bisque recipe
Adapted from The Stew
Serves 4
Ingredients:
1 tablespoon extra-virgin olive oil
2 shallots, minced
2 garlic cloves, minced
2 cups peeled and chopped salsify (about 6 roots)
1 cup half-and-half
2 cups vegetable stock
1/2 teaspoon sea salt
1/2 teaspoon of your favorite hot sauce
16 shucked oysters, liquid reserved, plus extra for garnish
Chopped parsley
Directions:
Heat the olive oil in a pot over medium heat. Saute the shallots and garlic until soft. Add the salsify, half-and-half and vegetable stock. Simmer until the salsify is tender, about 25 to 30 minutes.
Add the salt, hot sauce, shucked oysters and their reserved liquid.
Remove from heat and puree the soup in a blender until very smooth.
Serve soup in bowls garnished with oysters, chopped parsley and additional hot sauce, if desired.
TIP
Salsify browns quickly once cut. Combine the juice of 2 lemons with enough water to cover the salsify and soak to prevent browning until ready to use.
More Daily Flavor
Potato leek soup
Butternut squash and roasted garlic bisque
Farro and bean soup