A burger with a twist
You won't find any beef here! Go outside the box and try using elk meat for burgers. We think you'll love this burger piled high with onion rings and other tasty toppings.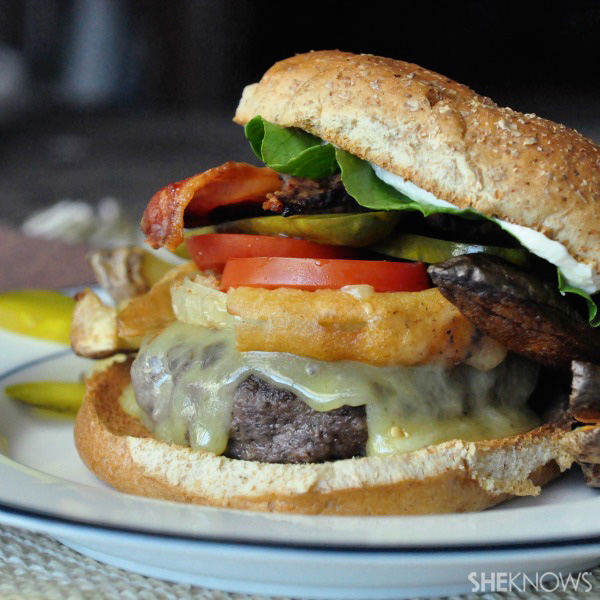 If you're one of the lucky ones who can get their hands on some ground elk, try this burger today. Just remember that elk is very lean so be careful not to overcook it!
Elk burgers topped with onion rings
Serves 5-6
Ingredients:
For the onion rings
1 whole yellow or sweet onion, sliced into thick rings and separated
3/4 cups whole wheat flour
1/3 cup whole milk
Peanut oil, for frying
For the burgers
2 pounds ground elk
Kosher salt
Freshly ground black pepper
2-3 tablespoons extra-virgin olive oil
Whole-wheat buns
Suggested toppings
Sliced cheese
Bacon
Tomato slices
Sliced dill pickles
Lettuce
Mayonnaise
Dijon mustard
Ketchup
Directions:
For the onion rings
Heat several inches of oil in a deep pan.
Make the batter by mixing together the flour and milk. (It will be a fairly thick concoction so it sticks to the onions.)
Dip the onion rings into the batter to coat and then carefully drop into the hot oil. Do this in batches so you don't crowd the pan.
Fry until golden brown and then carefully remove with tongs or a slotted spoon and place on a paper towel to drain.
For the burgers
Combine the elk meat with a sprinkle of salt and pepper and the olive oil.
Shape into 5-6 even balls and then shape each into a patty.
Heat a grill to medium-high.
Place the patties on the grill and cook about 4-5 minutes on each side. If adding cheese, place the cheese on the patties during the last minute or two of cooking.
Serve on toasted whole-wheat buns with onion rings on top. Garnish with additional toppings of your choice.
More Daily Flavor
Garlic and rosemary-crusted beef tenderloin
Vietnamese pork in caramel sauce
Peruvian mussels in corn salsa