A bowlful of flavor
Quick, easy and so delicious, this Chinese chicken salad is bursting with fresh flavors and healthy ingredients.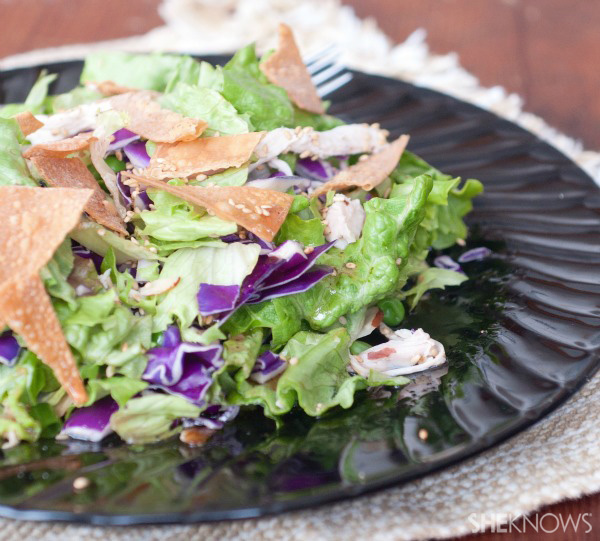 Who needs take-out? Make your own version of Chinese chicken salad at home with the help of a store-bought rotisserie chicken. It doesn't get much easier than this.
Chinese chicken salad recipe
Serves 6-8
Ingredients:
For the salad
2 cups peanut oil
1/2 package wonton wrappers, cut into strips
1/4 cup sesame seeds
1/4 cup slivered almonds
1 prepared rotisserie chicken
1 head red lettuce, torn
3 green onions, chopped
1 red onion, thinly sliced
1 cup snow peas
1/2 head red cabbage, thinly sliced
For the dressing
4 tablespoons sugar
1 tablespoon salt
1 teaspoon pepper
1/2 cup olive oil
6 tablespoons red wine vinegar
Directions:
Heat the peanut oil in a frying pan over medium-high heat.
Once hot, fry the wonton strips in batches until crispy. Drain the fried wontons on a paper towel and set aside.
Preheat oven to 350 degrees F.
On a baking sheet, toast the sesame seeds and the almonds just until fragrant.
Pull all the meat off the rotisserie chicken and shred.
In a large bowl, toss the lettuce, green onions, red onion, snow peas, cabbage, chicken, almonds, sesame seeds and fried wonton strips.
To make the dressing whisk all ingredients together in a small bowl until combined.
To serve, toss salad with dressing or drizzle over individual portions.
More Daily Flavor
Barbecue chicken pizza
Cheesy grilled bruschetta chicken
Grilled chardonnay chicken