Sweet and tart dessert
Deliciously flaky pastry is the star of the show in this pie filled with apple and rhubarb.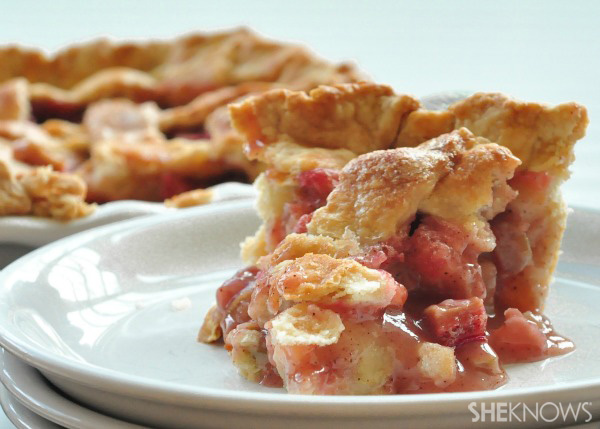 We've all seen strawberry and rhubarb pies, but apple gives this dessert the perfect balance of sweet and tart.
Apple and rhubarb pie recipe
Serves 8
Ingredients:
For the crust
3 cups all-purpose flour, plus extra for dusting
1 teaspoon salt
1 teaspoon baking powder
1-1/4 cups cold butter, cut into small pieces
1 egg
1 tablespoon white or cider vinegar
5 tablespoons cold water
1 egg
For the filling
3 cups diced fresh rhubarb
2 large apples, peeled and diced (like Gala)
1/2 cup sugar
1 tablespoon cinnamon
Pinch of salt
1/4 cup all-purpose flour
Directions:
First, make the pie crust. In a mixing bowl, mix the flour, salt and baking powder.
Add the butter and cut with a pastry blender until the texture of coarse sand.
Once the butter is incorporated, mix the egg, vinegar and water together in a small dish. Add that to the flour mixture and use the pastry blender to work the liquid evenly into the flour.
Divide the dough in half and shape each into a disc. Wrap in plastic wrap and place in the refrigerator for about 20 minutes.
Meanwhile, make the filling by combining all ingredients in a large bowl. Let sit while you finish forming the pie crusts.
After the dough has chilled, take out one of the discs and place it on a lightly floured surface. Roll it out so it is large enough to fit in your pie plate with a little extra hanging over the edges. Place dough into the pie pan.
Preheat your oven to 375 degrees F.
Dump the filling into the pie pan and the roll out the second disc of dough as you did the first. Place the second pie crust on top of the filling, then flute the edges to seal the pie. Cut an "X" or slits into the top crust to allow steam to escape.
Make an egg wash by whisking the egg with about 1 tablespoon of water. Brush the top of the crust with the egg wash and sprinkle some sugar over the top, if desired.
Wrap the edges of the pie in foil to protect them from burning. Bake for about 30 minutes.
Remove the foil from the pie and bake for another 25-30 minutes, until the top is golden brown and the fruit is cooked and soft.
Remove from oven and let cool before serving.
NOTE
If desired, make a lattice top crust by rolling out the dough and cutting it into long thin strips. Lay the strips on top of the filling in a basketweave pattern and crimp around the edges as normal.
More Daily Flavor
Lemon cheesecake
Homemade chocolate hazelnut spread
Peanut butter cheesecake mousse cups