Quick and easy
one-dish wonder
Want to add a little Asian flair to your steak dinner? This steak and vegetable stir-fry with brown rice and honey-soy sauce will satisfy all your cravings.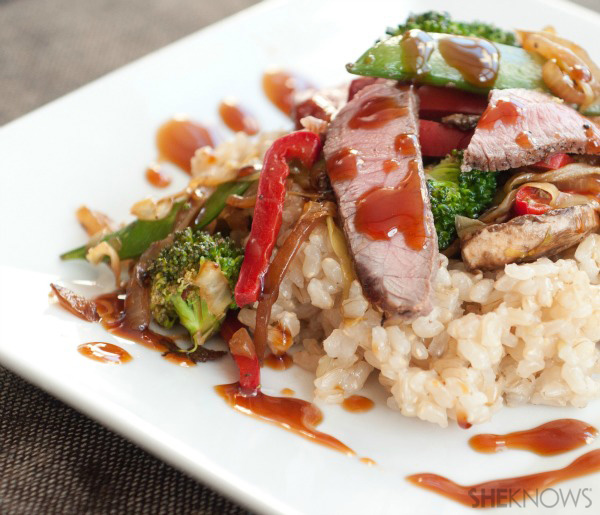 A stir-fry is a perfect way to clean out the produce bins. Add whatever vegetables you have on hand to make this dish any time the mood strikes.
Steak and vegetable stir-fry with brown rice recipe
Serves 6
Ingredients:
2 cups brown rice
2 pounds 1-inch thick sirloin steak
Salt
Freshly ground pepper
Olive oil
1 head broccoli, cut into bite-sized pieces
1 red bell pepper, thinly sliced
1/2 sweet onion, thinly sliced
1/2 pound cremini mushrooms, sliced
2 cups shredded cabbage
2 cups snap peas
1/2 cup soy sauce
1/2 cup rice vinegar
1/4 cup honey
4 teaspoons cornstarch
Directions: 
Cook the rice according to package directions.
Salt and heavily pepper the steak. Heat a wok or large skillet over high heat with 1 tablespoon olive oil. When the oil is almost to its smoke point, reduce the heat to medium-high and carefully add your steak to the wok. Cook steak to desired doneness, about 3 minutes per side for medium rare. Remove from pan and reserve.
In the same pan, add another tablespoon olive oil. Add the broccoli and saute about 5 minutes. Add the bell pepper and onion and saute another 2 minutes. Lastly, add the peas and mushrooms and saute another 2 minutes. Remove from heat.
In a small saucepan combine the soy sauce, vinegar and honey. Heat over medium until it is bubbling slightly.
In a small dish combine the cornstarch with a little water to make a smooth paste and add it into the soy sauce mixture. Stir until thick and bubbly, remove from heat.
Slice the steak into thin slices.
To serve, place rice in each bowl and top with vegetables and meat. Drizzle with sauce.
NOTE
Cook the vegetables to your preferred crispness by adjusting the time and/or the order that you cook them.
More Daily Flavor
Baked salmon with brown butter sauce
Grilled chardonnay chicken
Garlic and rosemary-crusted beef tenderloin