Breakfast stack
Dig into a hearty stack of spiced carrot pancakes topped with decadent cream cheese glaze for breakfast.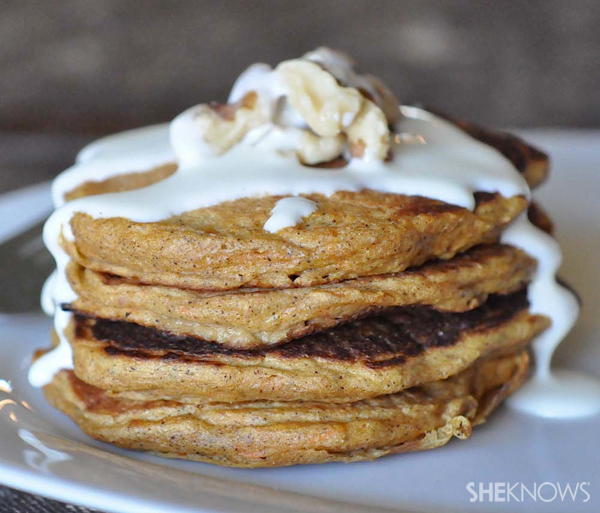 Jazz up boring pancakes by adding shredded carrot and baking spices. You'll almost feel like you're eating dessert!
Spiced carrot pancakes with cream cheese glaze recipe
Adapted from Healthy Food For Living
Serves 2-3
Ingredients:
For the pancakes
1 cup whole wheat flour
4 teaspoons brown sugar
1 teaspoon baking powder
1/2 teaspoon baking soda
1 teaspoon ground cinnamon
1/4 teaspoon ground ginger
1/2 teaspoon ground nutmeg
1/2 teaspoon salt
1 cup buttermilk
2 egg whites
1/2 teaspoon vanilla extract
1 cup finely grated carrot
2 tablespoons finely chopped toasted pecans (optional)
Butter
For the glaze
4 tablespoons cream cheese, room temperature
4 tablespoons milk
4 teaspoons sugar
Directions:
For the pancakes
In a medium mixing bowl, combine the flour, brown sugar, baking powder, baking soda, spices and salt.
In another medium mixing bowl, whisk together the buttermilk, egg whites and vanilla extract. Add in the shredded carrots and nuts (if using). Set aside and let rest while the pan heats.
Heat a griddle or large pan over medium heat with a little butter to keep the pancakes from sticking.
Pour 1/4 cupfuls of batter on the griddle, repeating until you have 8 pancakes. (Cook pancakes in batches, as needed.)
When the pancakes are no longer glossy on top and have big bubbles forming, flip over and cook the other side until golden brown.
Remove from the griddle and serve with cream cheese glaze.
For the glaze
In a small bowl, combine the cream cheese with the milk and powdered sugar. Whisk together until smooth.
Pour over pancakes.
More Daily Flavor
Funfetti cake waffles
Balsamic-roasted strawberry parfaits
Scrambled egg breakfast tostadas