Dishing out new breakfast favorites
Rise and shine! The birds are singing and it's time for breakfast. Start your day with something warm topped with sweet maple syrup. Is it the weekend? Perfect! Sleep in, kick up your heels and indulge in one of our 21 waffle, pancake or French toast recipes.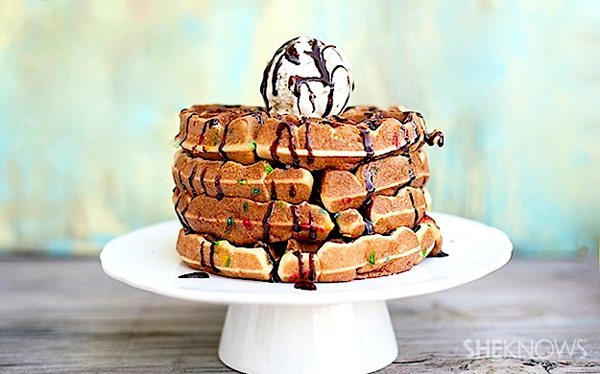 Whose birthday is it? These are perfect to start off your special day. Top with maple syrup if you're feeling safe or chocolate syrup and whipped cream if you're feeling daring.
2
Pilsner waffles with ambler ale caramel sauce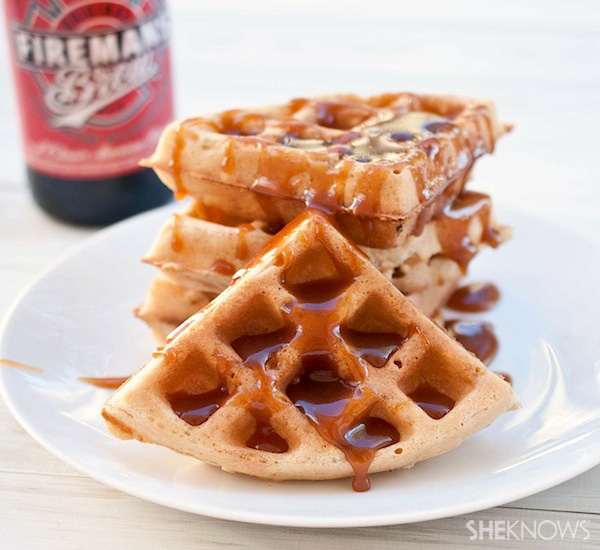 Beer for breakfast! This is the perfect waffle breakfast for brewery enthusiasts or even a casual ale sipper.
3
Ham, egg and cheese waffle sandwich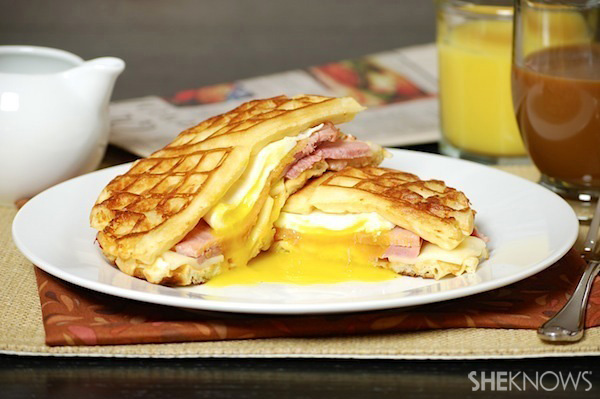 Feeling savory this Sunday morning? Picture this: Ham and melted cheese all wrapped up in a fluffy waffle.
4
Mini chicken and waffle sandwich
You'll be so sad that this sandwich is "mini" after biting into our juicy fried chicken. Just remember, there's no shame in having more than one!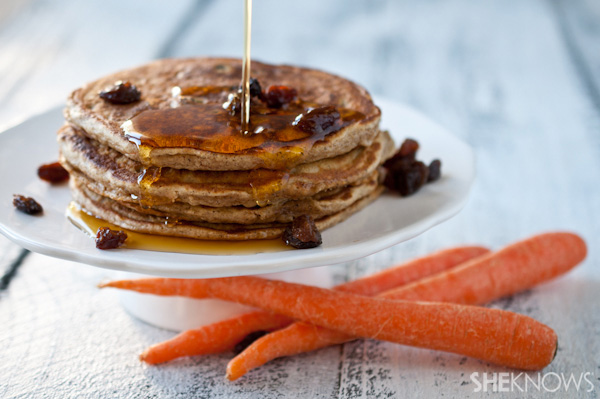 Carrots! Healthy, right? Let's just keep telling ourselves that as we devour these scrumptious pancakes with cinnamon, nutmeg and ginger.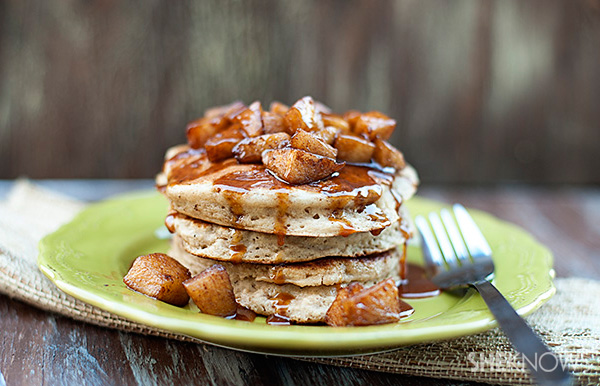 We think we may have quite possibly found the perfect fall breakfast. Light and airy cinnamon pancakes topped with caramel and fresh apples.
7
Bacon and corn pancakes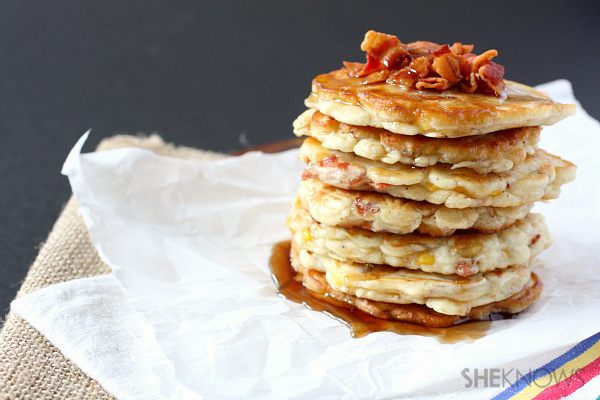 This recipe just might get the award for oddest combination. But trust us, it's worth the try! The sweetness of the corn against the savory bacon flavor is unique and tasty.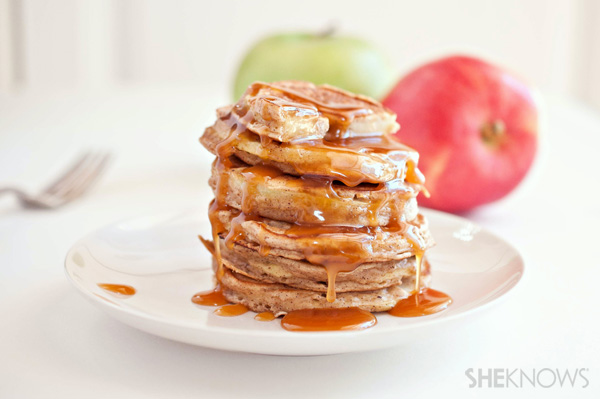 These pancakes are an apple lover's dream! Slice an apple into thin rings and then cook inside the batter for a fruity twist.
9
Red velvet pancakes with cream cheese glaze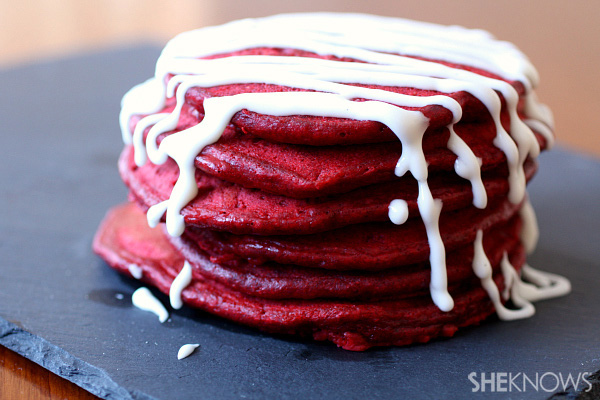 Roll out the red carpet for these red velvet pancakes. Now this is truly dessert for breakfast.
10
Coconut pancakes with roasted fruit topping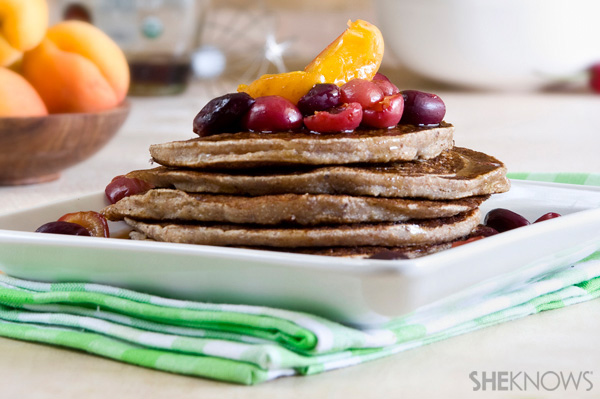 These light coconut pancakes are vegan, healthy and topped with roasted fruit to bring an interesting mix to the regular old standard pancake. No syrup required!
11
Amaretti pancakes with peaches and reduced Amaretto syrup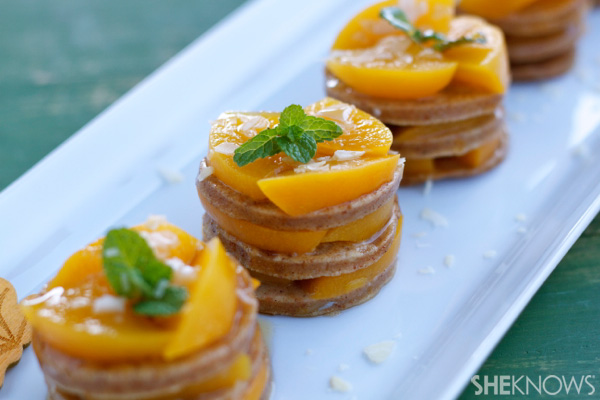 The power of peaches! The crunch from the ground biscotti cookies paired with fresh peaches and the almond-flavored liqueur packs a punch.
12
Baked brioche French toast with walnut crumble topping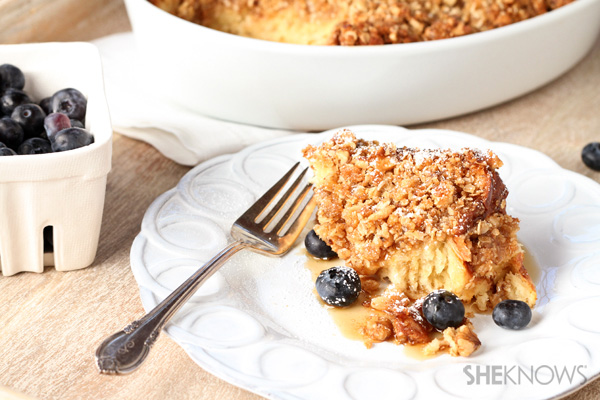 If you've never made French toast with brioche, now's your chance. The eggs and butter baked into the dough give it a tender yet flaky consistency, and the walnut topping adds the perfect crunch.
13
Challah French toast with warm apples and cinnamon crumble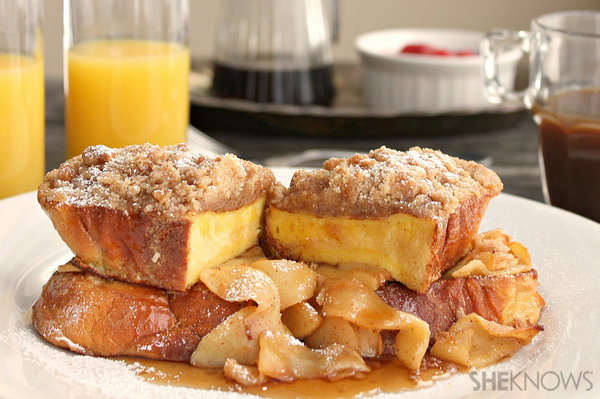 If you're experimenting with different breads for breakfast recipes, challah has to be the star of your next dish. The pull-apart pieces are sweet, rich and perfect for a French toast. This is wonderful for a Hanukkah celebration or just for someone looking to try new things!
14
Peanut butter and banana French toast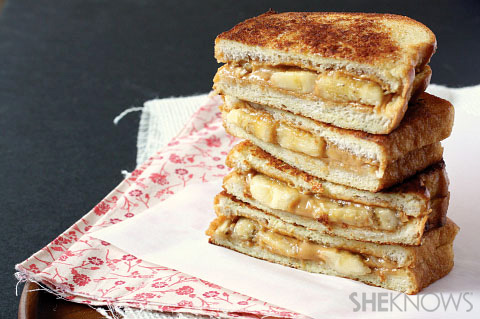 Peanut butter and banana: the classic pair. Pack your bananas inside two slices of bread and top with maple syrup for the ultimate childhood delight.
15
Baked pumpkin French toast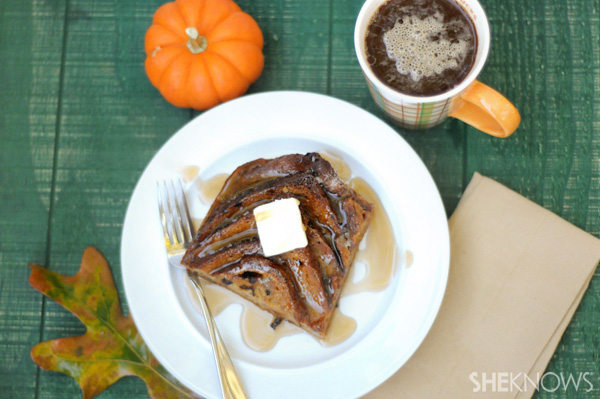 Serve this baked pumpkin French toast with syrup, whipped cream and a white hot chocolate on the side.
16
Whole wheat French toast sticks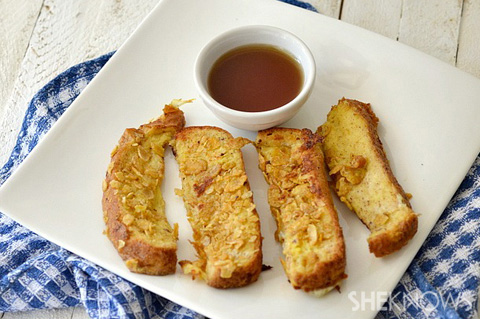 Perfect for dunking or for sharing, French toast sticks are just right for small fingers.
17
Peanut butter and jelly French toast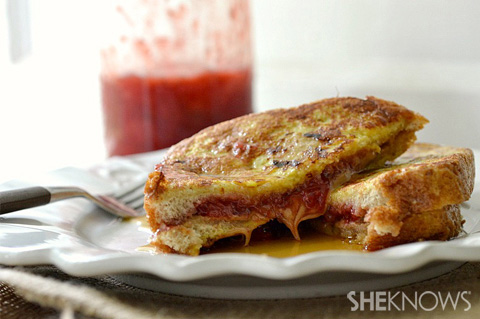 Another kiddie classic —  peanut butter and jelly. This breakfast is a great substitute for sugary cereals and is packed with protein to keep them full 'til lunchtime.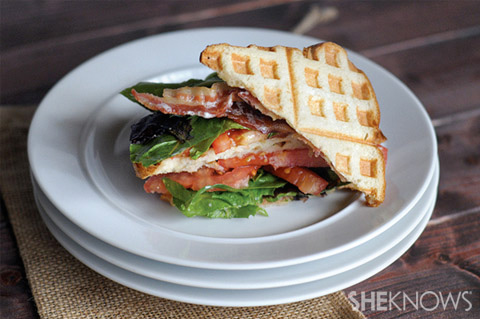 Who says waffles are just for breakfast? Take this morning meal to lunchtime with a waffle BLT, stacked high with tomatoes, crispy bacon and different types of cheese. Brie is our favorite!
19
Chocolate chip oatmeal pancakes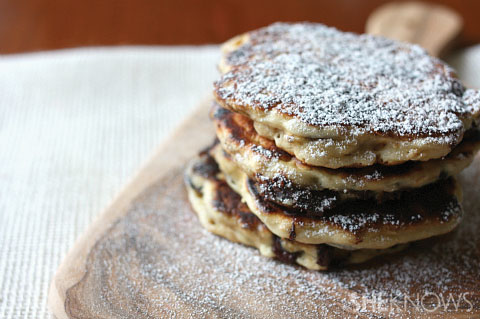 Who doesn't love ooey gooey chocolate chip pancakes on a Saturday morning? They will melt your heart and in your mouth all at once. Skip the syrup and sprinkle with powdered sugar for the perfect topping.
20
Oatmeal pancakes with strawberry sauce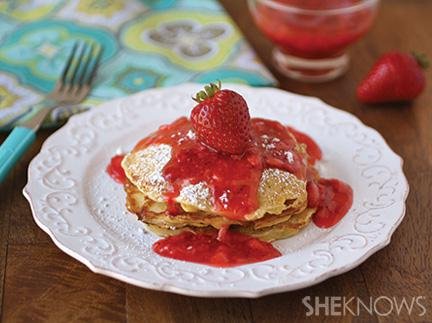 Feeling fruity this morning? Start your day off right with these cakes. The hearty oatmeal combined with the sweet sauce is a great morning pick-me-up.
21
Lemon blueberry pancake popovers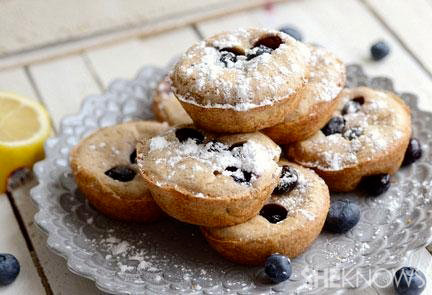 If you're looking to break out of the usual pancake mold, bust out the muffin tray. The lemon and blueberry mixture is mouthwatering and the addition of Greek yogurt is great for all those health nuts out there.
More breakfast ideas
On the go: 5 breakfasts that travel well
Healthy grab-and-go breakfasts
Healthy breakfast recipes for weight management