A dessert made for sharing
Chocolate chip cookie dough is baked in a cast iron pan and topped with creamy vanilla bean ice cream and served warm. This ooey gooey chocolaty dessert is the perfect size for sharing.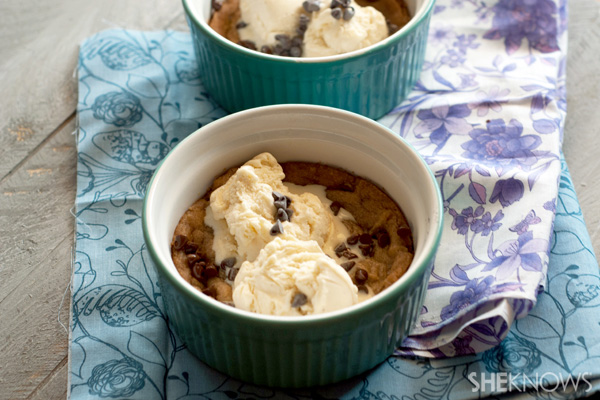 What's better than a hot gooey chocolate chip cookie? This recipe transforms the basic cookie into a full blown dessert made for sharing. Undercooking the dough just slightly yields a seriously gooey treat. If you don't like vanilla ice cream, use your favorite flavor and even swap out the toppings. Your whole family will love this family-style dessert.
Chocolate chip cookie pizza recipe
Serves 4
Ingredients:
1 roll refrigerated chocolate chip cookie dough
1 pint vanilla bean ice cream
Chocolate chips as garnish (optional)
Small cast iron pan or baking dish
Cooking spray
Directions:
Cut the roll of cookie dough in half. (Wrap the remaining half in plastic wrap and freeze for later.) Lightly spray the pan with cooking spray and gently press the cookie dough into the pan, covering the bottom. Bake 15 minutes or just until slightly underdone.
Remove the pan from the oven and top the cookie with several scoops of vanilla ice cream. Top with chocolate chips and serve immediately.
More delicious dessert recipes
Mini banana split bites
Strawberry tiramisu
Peanut butter cheesecake mousse cups