Nothing beats homemade bread
Homemade cinnamon swirl bread doesn't have to be complicated. With the help of a mixer, this recipe doesn't even require kneading!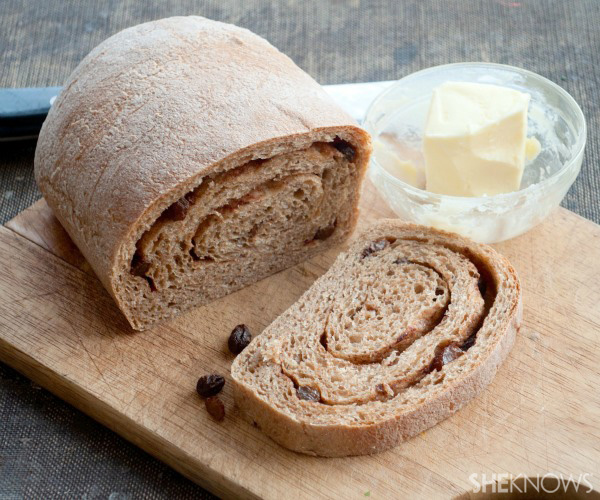 The smell of this bread baking will have you counting the minutes until you can slice into it and slather it with butter.
Cinnamon swirl bread recipe
Yields 2 loaves
Ingredients:
2 cups warm water
1 tablespoon yeast
1/3 cup honey
1/3 cup olive oil
2 teaspoons kosher salt
1/3 cup vital wheat gluten
5-7 cups whole wheat flour
4 tablespoons soft butter, plus more for pans
2/3 cup granulated sugar
4 tablespoons cinnamon
1/2 cup raisins (optional)
Directions:
In the bowl of an electric mixer fitted with a dough hook, combine water, yeast, and honey. Let it sit for a few minutes.
Add salt, oil, vital wheat gluten and 5 cups whole wheat flour. Turn on mixer. Once mixture is combined, continue to add more flour until the dough has pulled away from the bowl. This will take about 10 minutes, and you might not need all the flour.
Cover bowl and let rise until doubled, about an hour.
After the dough has doubled, punch it down and divide into two portions. Roll out each portion in a long rectangle, no wider than the length of the loaf pans you are going to use.
Smear butter all over the surface of the dough. Combine the cinnamon and sugar and then sprinkle it all over the top of the buttered dough. If using, sprinkle raisins on top and lightly press into dough.
Roll up each piece of dough jellyroll style from the short end.
Generously smear the inside of the loaf pans with butter. Place each roll of dough inside. Cover and allow to rise until doubled, about another 45 minutes–1 hour.
Preheat oven to 350 degrees F.
Bake loaves for about 35 minutes.
Remove from the oven and let cool for 10 minutes in the pan, then remove from the pan and let cool completely on a wire rack.
More Daily Flavor
Lemon beer loaf cake
Chocolate Fluffernutter banana bread
Jalapeño pale ale cornbread