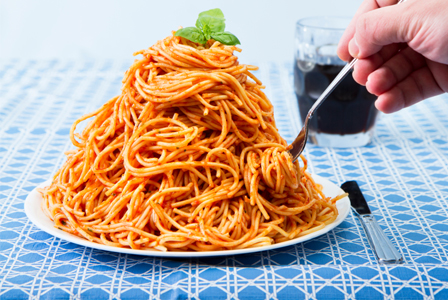 It happens to the best of us—we get a little carried away at our favorite restaurant and overeat. Luckily, there are a few things we can do to lessen the pain (and the guilt!).
I overate! Now what?
Thanksgiving is my favorite holiday of the year because it's perfectly acceptable to eat as much as is humanly possible. Any holiday that revolves mostly around food will always rank high on my list. But what do you do if you overeat on just a regular day? You know—you get a little carried away with dinner or eat one too many potato chips and the food coma sets in. Though it's always best not to overeat and to watch our portions, sometimes food just gets the best of us. When that happens, follow these tips to ease both the pain and the guilt!
Forgive yourself
What's done is done, and there is no point in dwelling on something you can't change. Forgive yourself and move on. We all make mistakes, we all break our diets and we all do things we regret. Don't beat yourself up over it!
Get active
Though you probably aren't up for hitting the gym or going on a five-mile run, you can go for a walk or a leisurely bike ride through your neighborhood. Low-impact cardio is a great way to get your heart pumping, your blood flowing and your mind off your binge. Plus, it burns about 100 calories per mile!
Eat better tomorrow
Tip: Don't eat too little the next day. Compensating overeating by under-eating is only going to hurt your body in the long run. It's best to simply resume healthy eating habits as soon as possible.
Isn't it wonderful that each day we get to wake up and start fresh? It's a new day and a new chance to make healthy choices that won't leave you feeling full and lethargic. Start your morning with oatmeal and fresh berries (they're loaded with antioxidants that can reverse the effects of overeating), followed by a lunch rich in whole grains and protein and a well-balanced dinner. Make sure to drink plenty of water and green tea, too!
Be prepared next time
Easier said than done—but take notice of what may have triggered you to overeat. Were you feeling sad or angry beforehand? Were you at a social gathering and drank a little too much? Were you starving and felt you needed to eat everything in sight? Be honest with yourself and work on reducing or eliminating those triggers in your life. If you're an emotional eater, make a list of things to do before resorting to food. If you tend to eat too much after drinking, limit your alcohol intake. To prevent feeling "starved," make sure to eat healthy, fiber-rich foods throughout the day and drink plenty of water.
Remember, the best way to prevent yourself from overeating is by eating small, well-balanced meals throughout the day. By continually giving your body the nutrients and calories it needs to function, you'll feel satisfied all day long and be less likely to give into cravings and binge eating.
More on overeating
Culture shock: Your family may be making you fat
Break your food addiction and lose weight
Why women who diet often gain weight