Everything is better with (brown) butter!
Toss the calorie counter aside for tonight — baked salmon in decadent brown butter sauce is more than worth it!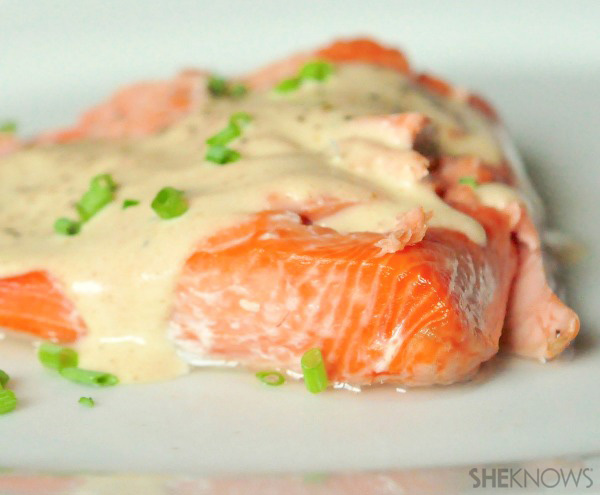 Quick and easy dinners don't have to be made in the microwave. In just 20 minutes this restaurant-quality baked salmon dish will be on your table, making it perfect for busy weeknights.
Baked salmon with brown butter sauce recipe
Serves 4
Ingredients:
2 pound salmon fillet with skin on
2 tablespoons butter
1 tablespoon flour
1 cup heavy cream
1/2 cup white wine
Salt
Freshly ground black pepper
Chopped chives
Directions:
Preheat oven to 450 degrees F.
Place the salmon fillet skin side down in a roasting pan, sprinkle with salt and bake until it flakes apart with a fork, about 15 minutes.
While the fish is cooking, place the butter in a small saucepan over medium heat. Melt and cook until the butter browns swirling the pan but not stirring. Watch carefully as it will go from brown to burnt fairly quickly.
Once the butter browns, quickly stir in the flour, then add the heavy cream and wine. Stir the sauce until slightly thickened then remove from heat and add salt and pepper to taste.
Remove the salmon from the oven, drizzle sauce over the top and sprinkle with chopped chives.
More Daily Flavor
Burmese shrimp and cucumber salad
Avocado Alfredo pasta with spicy shrimp
Creamy coconut crab curry