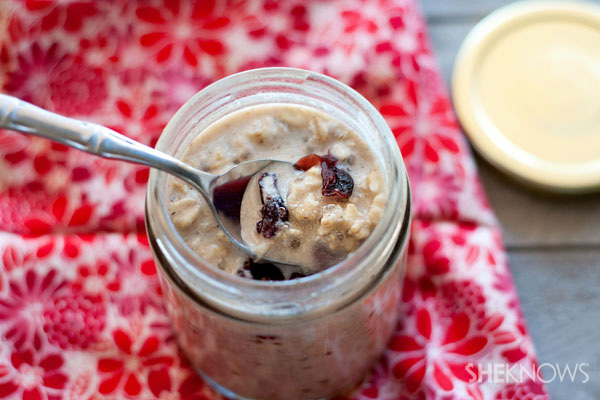 The Mason jar makes the preparation for this hearty breakfast minimal. Grab the jar, heat up the oats and go. Oats are high in fiber, which will help to keep you full during your busy morning.
2
Mason jar breakfast parfait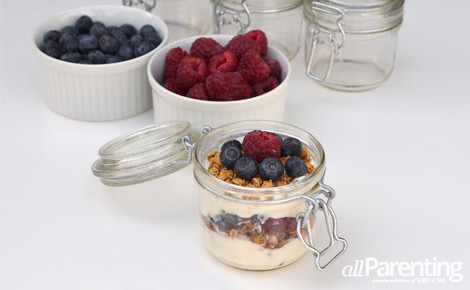 Don't have much time to make breakfast? No problem. Jump-start your day with a breakfast parfait. The fresh fruit, Greek yogurt, flaxseed meal and granola layered in the Mason jar is an easy, healthy breakfast alternative.
3
Fresh corn, edamame and radish salad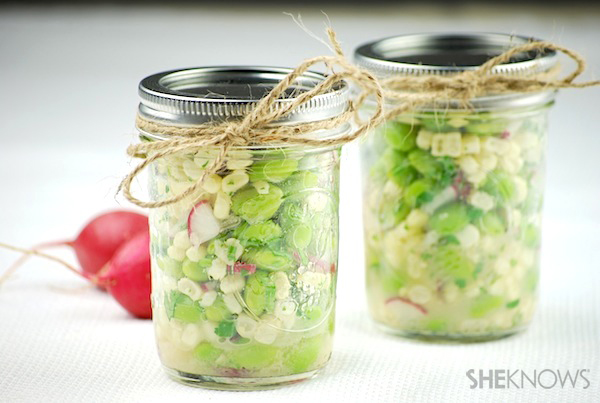 Assemble this salad in your Mason jar for a quick grab-and-go lunch option. The fresh corn, cilantro, green onions and edamame make this summertime salad a treat.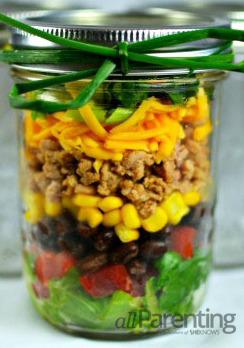 If you enjoy your Mexican dishes with lots of spice and kick, then you want to make sure you add this salad to your lunch menu. The layered ground turkey meat, lettuce, cheese, tomatoes, black beans, corn and salsa make this dish mmm-mmm bueno!
5
Chunky Mediterranean Mason jar salad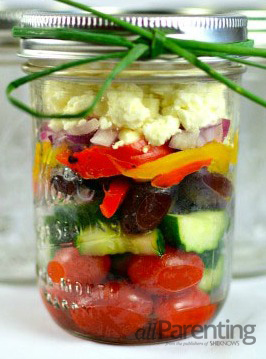 Who doesn't enjoy a vibrant, colorful salad? Well if you are a fan, then you'll love the flavors from this dish thanks to the plum tomatoes, olives, fire-roasted red and yellow peppers and of course, pass the feta cheese please!
6
Caprese Mason jar salad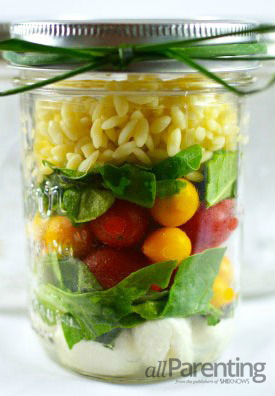 Mozzarella, assorted colored plum tomatoes, orzo pasta and baby spinach will make this popular salad a hit at the next summer picnic or barbecue. This crisp salad is light but will still leave you and your guests satisfied.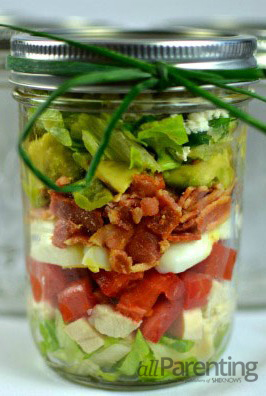 This popular American salad is a quick option for a hearty, filling dinner. From the chicken, egg and lettuce, to the bacon, cheese and tomatoes, you'll enjoy the variety of flavors this salad has to offer.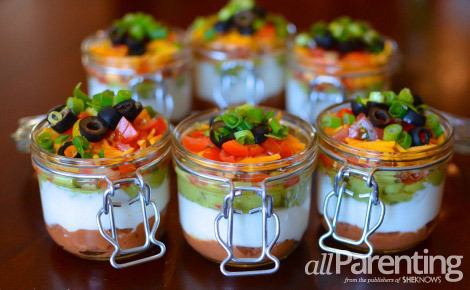 Have the most talked about dip at your next get-together when you show up with this dish. Pair this dip with crackers, tortilla or pita chips, breadsticks or veggie sticks.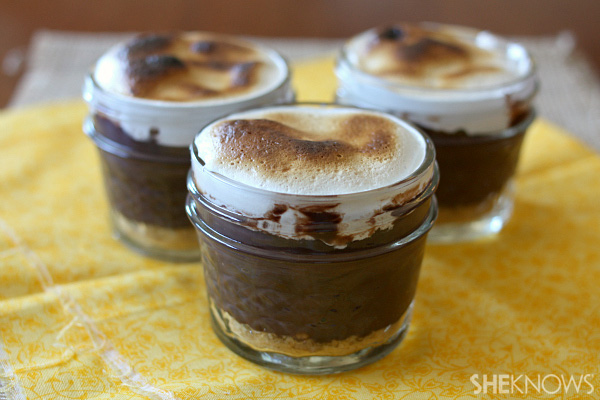 Recreate your classic childhood treat without all of the messiness. The Mason jar helps to retain the flavor without all the messy drama! Your kids will love this tasty treat.
10
Mason jar pumpkin cupcakes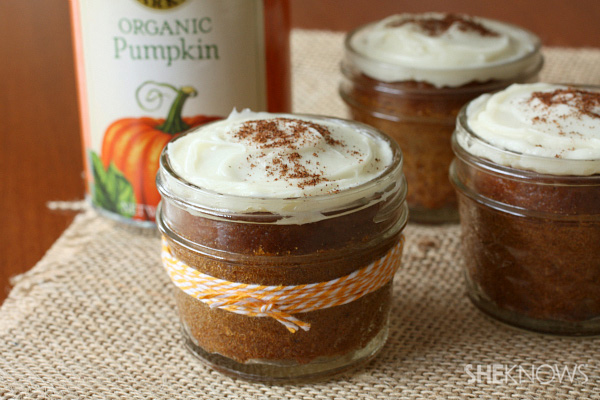 Who says you have to wait until the fall to enjoy a little pumpkin flavor? The cinnamon, ginger and nutmeg add a warm, spicy kick to this autumn-inspired treat.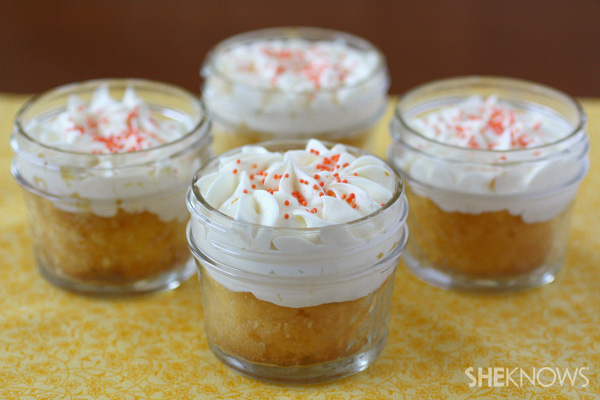 Move over Popsicles — we're making room for these creamsicle treats. The vanilla orange-flavored frosting gives these cupcakes the right amount of sweetness. They'll make delicious treats for your friends or your sweetie.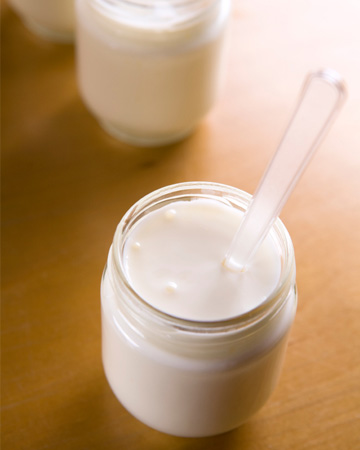 Whip together this simple two-ingredient recipe in a Mason jar. Enjoy this power food as a tasty snack or breakfast on your way out the door.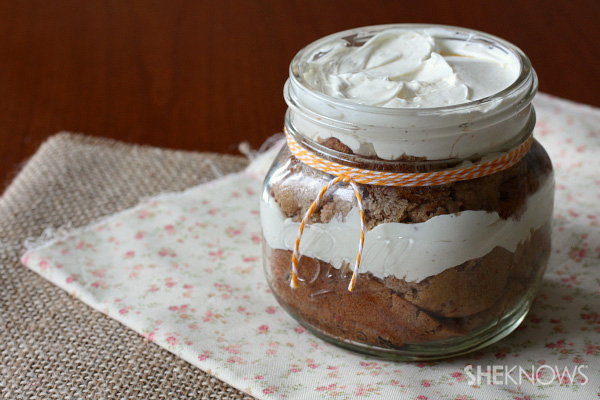 Enjoy this yummy, moist dessert layered with cream cheese frosting conveniently from your jar. The travel-size container allows you to savor the richness wherever you go.
14
Mason jar tortilla soup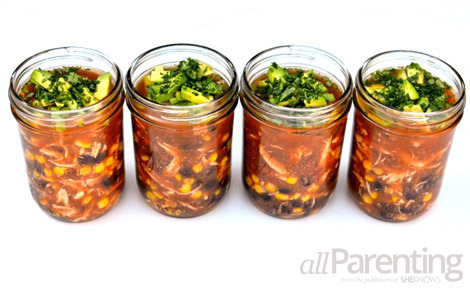 Get ready to have a hit at the dinner table with this super easy to prepare soup! Toss in the five ingredients, cilantro and tortilla strips, and you have a delicious layered soup that the whole family can enjoy.
15
Apple quinoa parfait recipe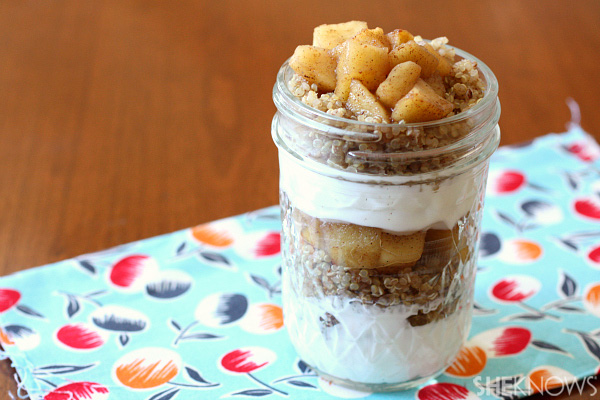 Tired of the same old breakfast? Spice up your morning routine with this recipe. Combining protein-packed quinoa with the nutrients and fiber from an apple is a great way to jump-start your morning with a healthy delight.
More on Mason jar recipes
Cookies in a jar
Mason jar drinks for a barbecue
Mason jar desserts