Special occasion dinner
When you need a stunning main course, this garlic and rosemary-crusted beef tenderloin fits the bill perfectly.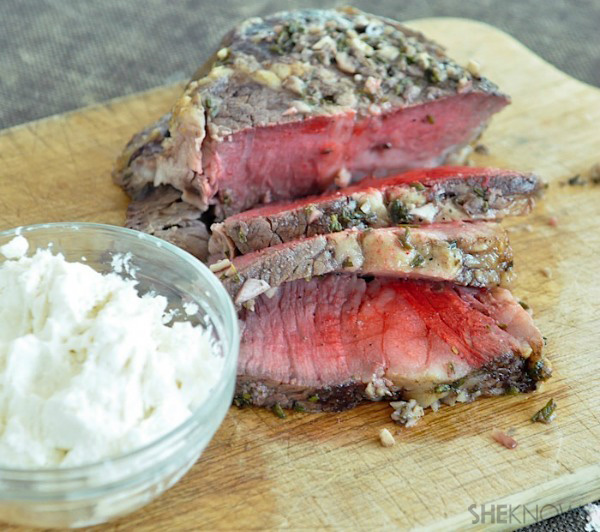 This beef tenderloin has a huge wow factor, but it only takes minutes to prepare. Your guests will be impressed, and you won't even have broken a sweat for this special occasion dinner.
Garlic and rosemary-crusted beef tenderloin with creamy horseradish sauce recipe
Adapted from Nordstrom Entertaining at Home Cookbook
Serves 6
Ingredients:
For the beef
1 center cut beef tenderloin (about 2.5 pounds), trimmed and silver skin removed
2 tablespoons olive oil
1 tablespoon chopped fresh rosemary
3 cloves garlic, minced
2 teaspoons coarse sea salt
1 teaspoon freshly ground black pepper
For the sauce
1 cup heavy cream
1/2 cup prepared horseradish sauce
1/2 teaspoon Worcestershire sauce
1/2 teaspoon coarse sea salt
Directions:
For the beef
Preheat the oven to 400 degrees F.
In a small dish, combine the olive oil, rosemary, garlic, salt and pepper. Stir to combine.
Using your hands rub the rosemary mixture all over the tenderloin.
Heat a large cast iron skillet (or any oven-safe pan) over high heat. Place the roast in the skillet and brown all the sides, about 2 minutes per side.
Transfer the skillet to the preheated oven and roast for about 40-45 minutes, depending on desired doneness. (Check out this chart for approximate cooking times.)
Remove from the oven and let sit for about 10-15 minutes, then slice and serve with creamy horseradish sauce.
For the sauce
Combine all the ingredients in a saucepan and simmer until thickened stirring occasionally, about 10 minutes.
More Daily Flavor
Beef brisket
Beef enchilada casserole
Homemade deli-style roast beef