Traditional with a twist
Take your chicken cordon bleu to the next level by topping it with a decadent and creamy white wine lemon sauce.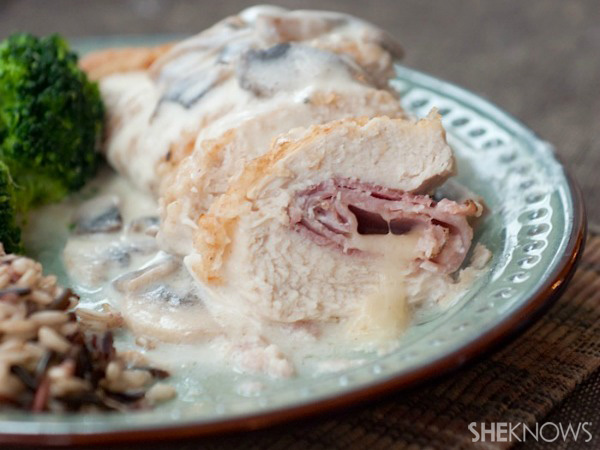 Prosciutto and cheese-stuffed chicken breasts take a bath in a citrusy sauce for a delicious new take on chicken cordon bleu.
Chicken cordon bleu with creamy lemon sauce recipe
Serves 5
Ingredients:
For the chicken
5 boneless, skinless chicken breasts
5 slices prosciutto
5 (1/2 inch) slices Swiss cheese
1 cup whole wheat flour
Kosher salt and freshly ground pepper
2 tablespoons olive oil
For the sauce
4 tablespoons butter
4 cremini mushrooms, diced
3/4 cup white wine
2 cloves garlic, minced
1 cup heavy cream
Juice from 1/2 lemon
1/4 teaspoon kosher salt
Directions:
For the chicken
Preheat the oven to 400 degrees F.
Carefully cut a slit in the thicker end of each breast to make a pocket. Make it as long and wide as you can without cutting through the chicken.
Wrap a piece of prosciutto around a slice of cheese and carefully stuff inside the pocket of the chicken breast. Repeat with remaining ingredients until all the breasts have been stuffed.
Combine the flour, salt and pepper on a plate. Heat the olive oil in a cast iron skillet over medium-high heat.
Coat each of the chicken breasts in the flour mixture, shaking off the excess. Place in the hot skillet. Brown both sides of the chicken. Once browned, place the skillet in the oven and bake until the chicken is cooked through, about 15 minutes.
For the sauce
In a medium saucepan over medium heat, melt the butter. Add the mushrooms and cook for about a minute.
Add the wine and the garlic and simmer until the wine is reduced slightly, about 6-7 minutes.
Add the cream and simmer until the sauce is thick and bubbly, about 7-8 more minutes.
Add the lemon juice and the salt and continue cooking for a few more minutes.
To serve, place one breast on each plate and top with about 1/4 cup of sauce.
More Daily Flavor
Barbecue chicken pizza
Sweet and spicy Asian chicken
Cheesy grilled bruschetta chicken