Although engagement parties are hardly a rarity in the realm of celebrations, they're less common than other pre-wedding festivities you're probably more familiar with such as showers, bachelor or bachelorette parties, and rehearsal dinners. If you've had little to no experience at engagement parties, you may feel clueless about the appropriate etiquette for hosting or attending such a celebration.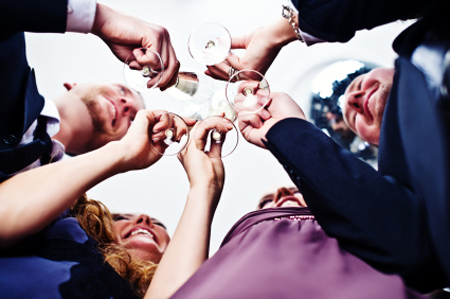 Don't fret. Here's the inside scoop on common conundrums, including what's proper and what's taboo.
Who should throw the party?
Stacey Halstead, owner of Create the Moment Wedding and Event Planners in the Philadelphia area, says, "Generally, the parents of the bride or groom—or both together if they choose—should host the party. If the two sets of parents live far apart, having two separate parties is acceptable, though you should invite guests to only one party, not both."
Can the newly engaged couple throw their own party?
Although a couple may be bursting with excitement about celebrating their upcoming nuptials with friends and family, Halstead says that it's generally more appropriate for the couple to leave the party in someone else's hands.
There are a few exceptions to this guideline. According to Halstead, "If the couple is having a destination wedding where many guests will be unable to attend, it is acceptable for them to throw an engagement celebration so they can have the chance to celebrate with their friends. Also, if the couple has recently moved into a new home together, they can throw an engagement/housewarming party."
Who should be invited to the engagement party?
Whether the engagement party will be big or small, etiquette experts generally agree that individuals should only be invited to the engagement party if they'll also be invited to the wedding.
According to Katie DeWeese, director of Digital Media for MyWedding.com, the exception is if the couple is planning a destination wedding. "Also, make sure to try and represent both sides of the couple's friends and family as equally as possible on the guest list," she adds.
Are gifts given to the couple at their engagement party?
"Gifts are not necessary and this should be expressed to guests," says Susan Callender, CEO of Oh My Gauche!, a leader in international etiquette and protocol training.
If the invitation advises guests not to bring gifts, Callender recommends respecting the host's or couple's wishes and waiting until future wedding celebrations to give the bride and groom something. If gifts have not been mentioned, and you would like to present the couple with something to congratulate them, Callender suggests going with something small, such as celebratory champagne.
She also says that any gifts the couple receives at the party should be kept out of sight. "They should not be displayed on a gift table, as this may cause discomfort for those guests who followed proper protocol," she explains.
Is there anything in particular the host or couple should do at the party?
Aside from chatting with guests and thanking them for joining the celebration, DeWeese says, "Generally, the father of the bride leads a toast to the couple. The couple will respond with a toast to their families."
Halstead suggests another tip the newly-engaged couple should keep in mind before the party: "Often it is the engagement party where the parents of the bride and parents of the groom meet. The bride and groom should be sure to inform their parents about anything they need to know about the other. For instance, if one parent is in recovery from alcohol addiction, this needs to be discussed and this person is not to be offered a drink. If one is a stark Republican and the other a strong Democrat, both should be told that politics are not to be discussed," she explains.
Are there do's and don'ts for where to hold the party?
Ultimately, the right place for the celebration depends on the guest list. According to Syndi Seid, founder of Advanced Etiquette, appropriate venues include a person's home, a restaurant, or a country club.
"What would be inappropriate, in my mind, is to hold the party someplace where the parents and older relatives would not enjoy [themselves]—a night club," says Seid. If a couple feels strongly about holding their party at such a venue, she suggests having two parties, one for friends at the night club and one for parents and older relatives in a setting where they'd feel more comfortable.
More Wedding and Engagement Etiquette
A Guest's Guide to Proper Wedding Etiquette