Want to jazz up your traditional holiday tablescapes and party ideas? These unexpected holiday themes will have you entertaining in style this season! Whether you trim the trees in pink or host a sports-themed holiday dinner, your guests will love a unique twist on the traditional!
(page 4 of 4)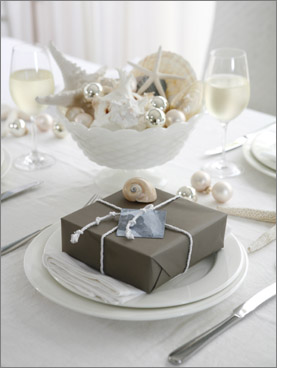 Tropical beach themed holiday
Warm up this holiday season with a beach themed tablescape. Give your guests a break from the frigid winter air and enjoy the "sand" and "sun."
Greet each guest with a brightly colored lei as they enter the party.
Fill glass vases with sand found at local craft stores and place along your serving table.
Fill seashells with small tea lights. Place miniature Christmas trees (or even palm trees!) around the table and decorate with paper crafted beach balls, surfboards, sunglasses, and other beach-themed decorations.
Serve fruity cocktails in plastic coconuts topped with paper umbrellas found at party supply stores.
Pipe fun music like a "Beach Boys Christmas" to get your guests in the mood.
Make a seashell decorating station for the kids with glitter pens, ribbon, and other fun craft items. Let each child take their seashell ornament home as a favor. Not only will your adult guests enjoy the break from the traditional Christmas party, but the kids will enjoy the fun as well.