Want to jazz up your traditional holiday tablescapes and party ideas? These unexpected holiday themes will have you entertaining in style this season! Whether you trim the trees in pink or host a sports-themed holiday dinner, your guests will love a unique twist on the traditional!
(page 3 of 4)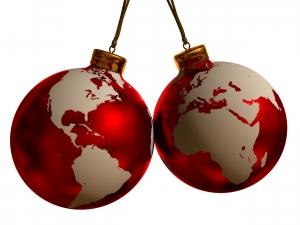 Holidays around the globe
The holiday season is celebrated in very different ways across the world. Create a global tablescape this year and invite your friends over for an "Around the World" holiday party!
Frame Christmas greetings from around the world on your table including "Nollaig Shona Dhuit" which means "Merry Christmas" in Irish-Gaelic language.
Serve holiday treats from around the world such as turrón from Spain which is a nougat made of toasted sweet almonds.
Champagne is the drink of choice for the holiday season in Italy as well as much of Europe. Serve a build-your-own champagne cocktail bar with sweet syrups like raspberry and cherry for guests to add to their sparkling drink.
Serve sparkling cider for the younger guests and set up a coloring station where the children can color flags from around the world while the adults enjoy mixing and mingling.
>>>Up next: Tropical, beach-themed holiday