Want to jazz up your traditional holiday tablescapes and party ideas? These unexpected holiday themes will have you entertaining in style this season! Whether you trim the trees in pink or host a sports-themed holiday dinner, your guests will love a unique twist on the traditional!
(page 2 of 4)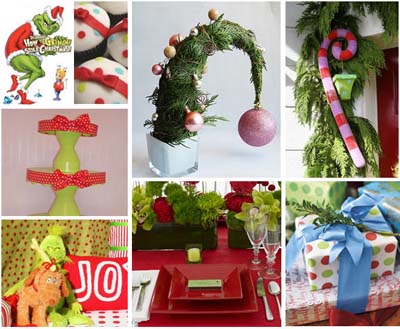 Dr. Seuss' How the Grinch Stole Christmas
Bring this whimsical childhood author alive on your holiday table this year!
Visit Seussville.com to find printable masks and other party décor. Or get creative and make your own!
Greet guests with fun nametags of the movie characters' like Cindy Lou and Max.
Set up a viewing room in your house where guests can enjoy treats and watch How the Grinch Stole Christmas. Set up a movie trivia station with questions from this classic movie and ask guests to take a stab at the answer for a chance to win a prize.
Serve Grinch-colored cupcakes for the kids and tint cocktails with green food coloring and serve in glasses rimmed in red sugar for the adults.
Decorate your table with whimsical red and white bows.
Make your own cake stands in Grinch green with wooden candlesticks and round wooden boards from a local craft store.
Trim the cake stand in a polka dotted red and white bow.
Place framed pictures of scenes from the movie in large frames on your table. Include a framed menu of the party treats such as "Whoville Ham Sandwiches" and "Roast Beast."
>>>Up next: Holidays around the globe