We all scream for
this ice cream!
Recreate a classic ice cream shop flavor at home. This dark chocolate ice cream with a peanut butter swirl will be your new favorite scoop.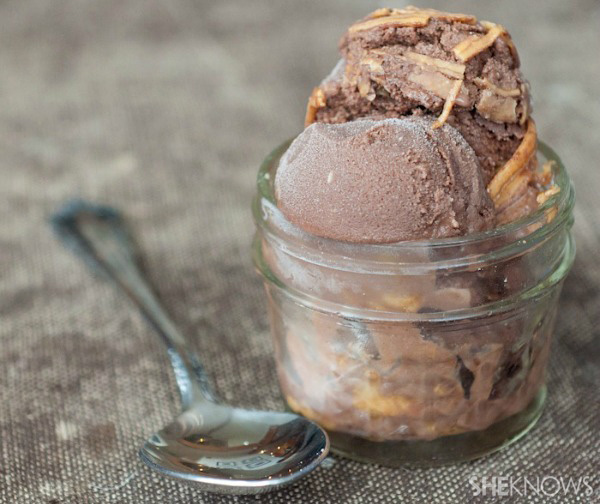 One taste of this homemade frozen treat, and you'll never buy another pint from the grocery store again. It's extra-creamy and so decadent!
Dark chocolate peanut butter swirl ice cream recipe
Adapted from The Little Red House
Serves 4-6
Ingredients:
4 ounces dark chocolate, chopped
3 cups whole milk, divided
1/4 cup cocoa powder
1/2 cup + 2 tablespoons sugar
Pinch of salt
6 egg yolks
1/2 teaspoon vanilla extract
1/3 cup natural peanut butter
1/2 teaspoon sea salt
Directions:
Place the dark chocolate in a large heatproof bowl.
In a medium saucepan over medium heat, combine 1 cup milk and the cocoa powder. Stir until completely combined, bring to a simmer and simmer for 30 seconds.
Carefully pour the milk mixture over the dark chocolate and stir until completely smooth. Set aside.
Using the same saucepan, warm the remaining milk, sugar and salt.
In another bowl, whisk the egg yolks until thick and pale. Slowly drizzle the hot milk mixture into the egg yolks, whisking the entire time, until about 1/2 of the milk is mixed in with the eggs. Then slowly pour the egg mixture back into the saucepan with the milk. Place the saucepan over medium heat and stir with a spoon until it is thick and bubbly. It should coat the back of the spoon.
Pour the custard through a strainer into the chocolate mixture. Add the vanilla.
Fill a large bowl with ice water. Place the chocolate custard mixture over the water bath and stir until room temperature, then chill in the fridge.
Once the mixture is cool, place in the ice cream maker and run according to the manufacturer's directions.
Combine the peanut butter with sea salt.
Once the ice cream is done, pour into a container and drizzle the peanut butter over the ice cream. Use a knife to swirl it into the ice cream. Place in the freezer to finish freezing.
More Daily Flavor
Avocado ice cream
Vegan coconut ice cream
Vegan cherry chocolate ice cream