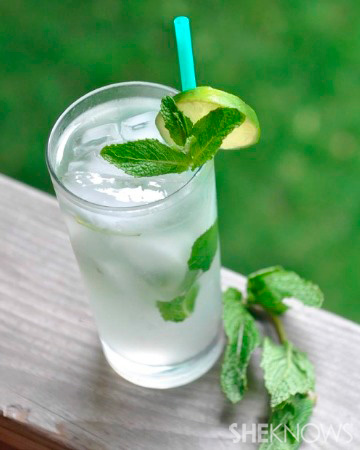 Citrusy happy hour
sips
Nothing beats a refreshing mojito on a hot summer day. We've changed up the classic recipe with sparkling limeade soda.
Whether you're unwinding after a long day or enjoying a cocktail poolside, a citrusy rum mojito will hit the spot.
Sparkling limeade mojito recipe
Makes 4
Ingredients:
1/4 cup fresh mint leaves, torn
1 tablespoon sugar
Juice of 2 limes, divided
1-1/4 cups clear rum
1 (33 ounce) bottle limeade sparkling soda (or your favorite flavored sparkling soda)
Ice
Directions:
In a tall glass or shaker, combine the mint leaves, sugar and juice from one lime. Muddle together to release the flavors. Add the rum.
Fill 4 glasses with ice, pour 1/4 of the rum mixture into each glass, then top with limeade sparkling soda. Add additional lime juice, to taste.
More Daily Flavor
Watermelon tequila mojito
Papaya, pineapple and ginger cooler
Mahana cocktail