An Italian twist on grilled chicken
Simple grilled chicken gets amped up with classic bruschetta flavors and a slice of gooey mozzarella cheese.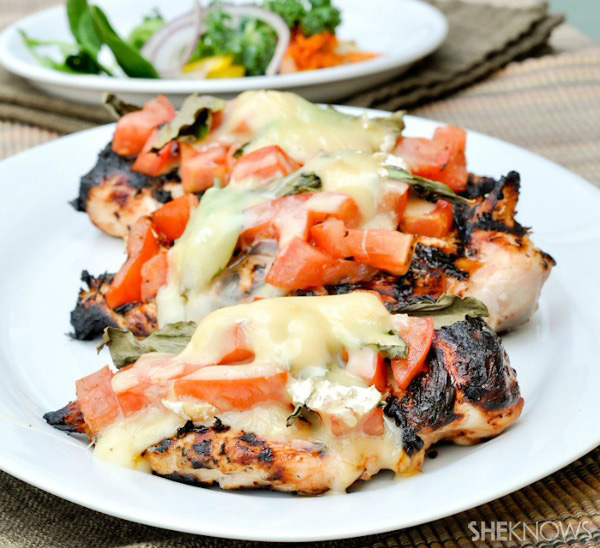 Even if you're short on time, this marinated chicken dish will be on the table in no time. If you've got a little more time, marinate for up to a day for more intense flavors.
Cheesy grilled bruschetta chicken recipe
Serves 6
Ingredients:
For the marinade
1/4 cup red wine vinegar
1/3 cup olive oil
1 teaspoon lemon juice
1 tablespoon minced onion
1 teaspoon minced garlic
1 teaspoon dried oregano
Kosher salt
Freshly ground black pepper
6 boneless, skinless chicken breasts
For the topping
2 ripe tomatoes, diced
1 tablespoon olive oil
2 teaspoons balsamic vinegar
Kosher salt
Freshly ground black pepper
1/4 cup fresh basil leaves
6 slices mozzarella cheese
Directions:
For the marinade
In a zip-closed plastic bag, combine the red wine vinegar, olive oil, lemon juice, onion, garlic and oregano. Season with salt and pepper.
Add the chicken breasts and seal the bag. Massage the chicken a bit inside the bag to help it absorb the flavors and refrigerate for at least 30 minutes, but up to 24 hours.
For the topping
In a medium bowl, combine the tomatoes, olive oil and balsamic vinegar. Season with salt and pepper and set aside.
For the chicken
Heat the grill to about 400 degrees F.
Once hot, place the chicken on the grill and close the lid. Cook for about 6-7 minutes, then flip over and cook the other side. While the other side is cooking, carefully place a layer of basil leaves on the chicken, then a spoonful of the tomato mixture. Top with a slice of mozzarella cheese.
Close the lid on the grill and cook for about 2 more minutes until the cheese is melted. Remove carefully from the grill.
More Daily Flavor
Sweet and spicy Asian chicken
Vietnamese caramelized spicy chicken
Thai chicken with fresh basil