Delicious Summer Desserts
Planning a picnic? We have three surefire recipes for the perfect summer meal!
Planning a picnic dessert can be a hassle. Whipped cream can spoil, buttercream will melt and it's incredibly hard to pack a pretty dessert without it getting ruined on the way to the picnic!
Simmer your picnic woes with a little help from ABC's The Chew chef Carla Hall as she demonstrates one of "heavenly homemade" treats! Her delightful summer berry pudding in the clip above is simple, easy to make with 3 steps and only costs $1.16 per serving. It feeds up to 12 people and will be perfect for any summer bash with friends or family. Watch the video above to get the recipe that takes no time at all but will really impress all the other picnic guests.
We've complied a list of portable picnic dessert recipes inspired by chef Carla Hall's berry pudding. You and your family will agree that our treats and Carla's recipe are berry delicious!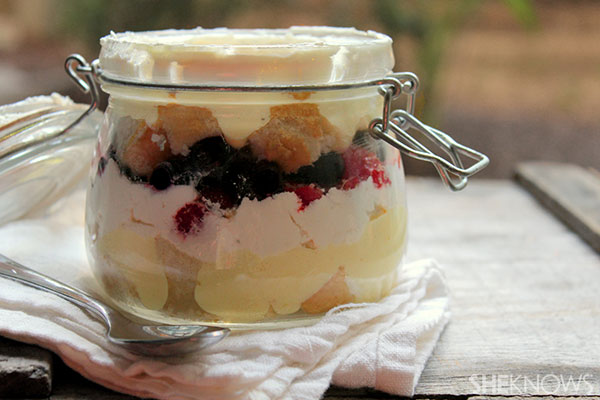 Summer trifle
Sure, this recipe is filled with whipped cream and pudding, but with the ingenious — not to mention trendy — use of a mason jar, you can seal your trifle and keep it in the ice chest along with the all the cold drinks!
Ingredients:
1 (19.8 ounce) package white cake mix
1 (3.9 ounce) package instant vanilla pudding mix
1/2 cup water
1 (14 ounce) can sweetened condensed milk
4 cups heavy cream
1 cup sugar
4 teaspoons vanilla
4 cups fresh berries
Directions:
Prepare the cake mix according to the package directions and cool completely. Cut the cake into 1-inch squares.
Whip the cream until it is almost stiff. Add the sugar and vanilla and beat the mixtures until the cream holds peaks. Refrigerate until needed.
In a large bowl, combine the pudding mix, water and sweetened condensed milk. Mix until smooth, then fold in 8 ounces of whipped cream until no streaks remain.
In a small Mason jar, place layers consisting of a handful of the cake topped with a large dollop of the pudding, a dollop of whipped cream and a handful of berries.
Repeat layers until the jar is full.
Repeat with additional Mason jars.
Refrigerate the filled jars for 8 hours before serving.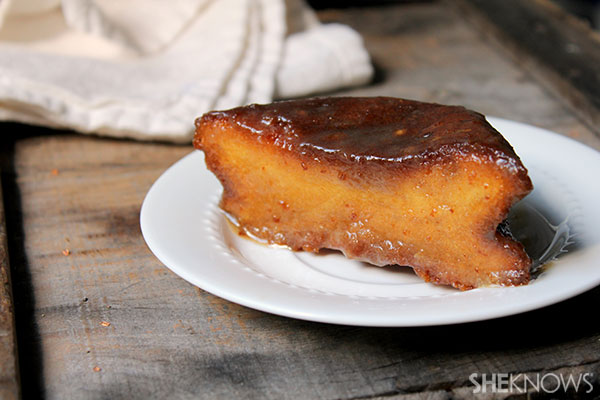 Quick-and-easy rum cake
If you don't have a Bundt pan, make the cake according to the directions on the box and then skip straight to using the delicious, buttery rum glaze! For a family-friendly version, add the rum before simmering the sauce so the alcohol cooks out.
Ingredients:
1 (18.5 ounce) package of butter cake mix
1 (3.4 ounce) package of instant vanilla pudding mix
4 large eggs
1 cup nonfat milk
1/4 cup rum
1/2 cup vegetable oil
For the glaze:
1/2 cup butter
1 cup brown sugar
1/2 teaspoon cinnamon
1/2 cup dark rum
Directions:
Preheat the oven to 350 degrees F. Generously butter a 10- to 12-cup Bundt pan or two mini Bundt pan sheets and dust them with flour.
Stir the cake mix and pudding mix in a large bowl to blend them. Beat in the eggs and then the milk, rum and oil. Transfer the mixture to the prepared pan.
Bake cake until a tester inserted near center comes out clean, about 15 minutes for mini bundt cakes and 50 minutes for a large bundt cake. Set pan with cake(s) on rack while preparing glaze.
Combine the butter, sugar and cinnamon in a flambé pan or skillet. Place the pan over low heat on top of the stove, and cook, stirring, until the sugar dissolves. For a family-friendly version, add rum and continue to cook the sauce until simmering. Turn heat to low and simmer five minutes. Remove from heat. For a more adult sauce, simmer the sauce for five minutes, remove from heat and then stir in rum.
For mini bundt cakes, place top-down into the sauce, then flip after 20 seconds. Let sit in sauce bottom-down for another 20 seconds before removing with a slotted spatula. These can be served immediately.
For a large bundt cake, leave cake in pan and poke generously with wooden skewer or chopstick. Pour half of the sauce over the cake. Allow to sit 10 minutes, then pour in the remainder of the sauce. Allow to sit for a few hours before carefully removing the cake and serving.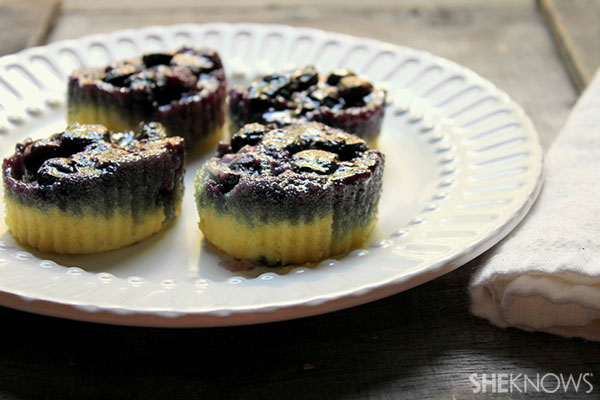 Blueberry upside-down cupcakes
Skip the cake-serving utensils! Bake an upside-down cake in cupcake form to please the crowd!
Ingredients:
1/3 cup butter
1 cup sugar
1 18.25 ounce box lemon cake mix
1 cup blueberries
water, oil and eggs according to cake mix instructions
Directions:
Preheat oven to 325 degrees F.
Line two cupcake tins with liners.
Melt the butter in a small pan over medium-low heat. Add sugar and continue to cook for 5 minutes.
Mix the cake mix. Add water and mix. Add oil and mix. Add eggs one at a time, mixing after each addition.
Divide the butter-and-sugar mixture between the cupcake liners. Add about 7 or 8 blueberries to each cupcake liner. Spoon the cake batter over the blueberries.
Bake the cupcake for about 15 minutes or until an inserted toothpick comes out clean.
Allow to cool for 5 minutes before attempting to invert.
Was your Carla inspired berry pudding a hit?! Obviously! If you're looking for more heavenly homemade treats from her or any of our other favorite Chew hosts, log onto to Hulu.com to view full episodes of our favorite ABC cooking talkshow. Find a variety of fun summer recipes from a variety of celebrated chefs on ABC's The Chew, weekdays at 1e|12p|c.
More great summer desserts
7 Healthy summer desserts
Cool summer desserts
Backyard picnic how-to menu