Deep-fried deliciousness
This weekend, whip up an indulgent breakfast. These mini ricotta doughnuts dipped in bittersweet chocolate or salted caramel sauce are worth the calories!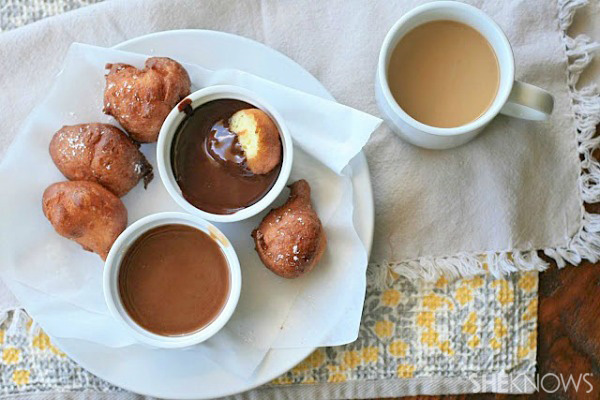 Forget the doughnut shop — moist, fluffy gluten-free ricotta doughnuts with a hint of citrus are only minutes away.
Gluten-free mini ricotta doughnuts recipe
Adapted from Williams-Sonoma Cooking for Friends: Fresh Ways to Entertain with Style
Yields 16-24 doughnuts, depending on size
Ingredients:
Canola or vegetable oil for frying
1/2 cup superfine rice flour
1/4 cup potato starch
2 tablespoons tapioca starch
2 teaspoons baking powder
1 teaspoon grated lemon zest
1/4 teaspoon salt
1 cup whole milk ricotta cheese
2 eggs, lightly beaten
2 tablespoons sugar
1 teaspoon vanilla extract
Powdered sugar
Bittersweet chocolate dipping sauce (recipe follows)
Salted caramel dipping sauce (recipe follows)
Directions:
Heat several inches of oil a small, heavy saucepan to 370 degrees F.
While the oil is heating, combine the rice flour, potato starch, tapioca starch, baking powder, lemon zest and salt in a medium bowl. In a large bowl, combine the ricotta, eggs, sugar and vanilla. Add the flour mixture to the ricotta mixture and whisk until blended.
Working in small batches, drop heaping tablespoons of batter into the hot oil, turning occasionally, until the exterior is golden and the insides are cooked, about 4 minutes. Using tongs or a slotted spoon, transfer to a paper towel-lined plate to drain.
Lightly dust with powdered sugar and serve with bittersweet chocolate and salted caramel dipping sauces.
Bittersweet chocolate dipping sauce recipe
Ingredients:
1/2 cup heavy cream
2/3 cup bittersweet chocolate chips
Directions:
In a small saucepan, heat cream until hot but not boiling.
Place the chocolate chips in a microwave safe bowl and microwave in 30-second intervals until soft. Stir until smooth.
Whisk the hot cream into the melted chocolate until smooth.
Salted caramel dipping sauce recipe
Ingredients:
1 cup sugar
1/4 cup water
3/4 cup heavy cream
2 tablespoons butter
1 teaspoon sea salt
Directions:
In a small, heavy-bottomed saucepan over medium-low heat, combine the sugar and water. Heat, stirring, until the sugar dissolves. Increase the heat to medium-high and bring to a boil without stirring, washing down any crystals on the side of the pan with a wet silicone or pastry brush.
Boil until the syrup is a deep amber color.
Remove the mixture from the heat and carefully whisk in the heavy cream carefully as the mixture will bubble. Stir in the butter and salt.
More Daily Flavor
Gluten-free lemon tart
Flourless peanut butter chocolate chunk cookies
Vegan cherry chocolate ice cream