Taste the Hungarian way
Tired of plain Brussels sprouts? Amp them up the Hungarian way with a creamy baked gratin.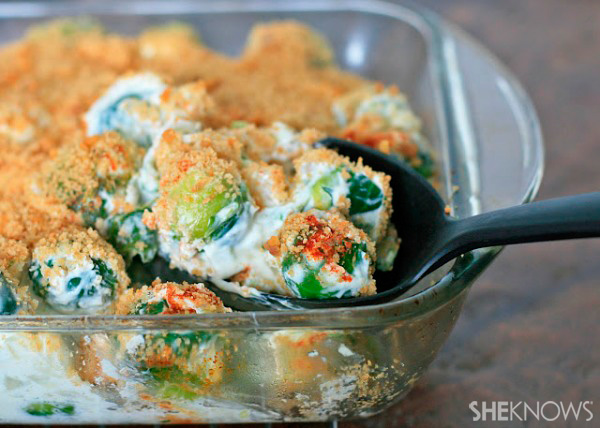 Salt pork, sour cream and a breadcrumb topping give Brussels sprouts new life. Even proclaimed sprout-haters will love this side dish.
Baked Brussels sprouts gratin recipe
Adapted from The Hungarian Cookbook
Serves 8
Ingredients:
2 pounds Brussels sprouts
6 cups water
2 tablespoons salt, divided
1/4 cup minced salt pork
1 small yellow onion, chopped
1/4 cup water
1 teaspoon salt
2 teaspoons black pepper
1-1/2 cups sour cream
Paprika
1/3 cup breadcrumbs
Directions:
Preheat oven to 350 degrees F. Butter a 9 x 9-inch baking dish.
Wash and trim the ends of the Brussels sprouts. Bring the water and 2 tablespoons of salt to a boil in a large pot. Add the Brussels sprouts and let them boil, uncovered, for 10 minutes. Drain and rinse in cold water. Reserve.
In a large saucepan over medium-high heat, fry the salt pork until browned and crispy. Remove the salt pork with a slotted spoon and reserve.
Add the onion to the rendered pork fat and cook over medium heat until the onion has softened. Add 1/4 cup of water, 1 teaspoon of salt, pepper, and stir to combine. Remove from heat and let cool slightly. Stir in the sour cream and mix thoroughly. Add the Brussels sprouts and stir well to combine.
Pour mixture into prepared baking dish and sprinkle with paprika and the salt pork bits. Top Brussels sprouts evenly with breadcrumbs. Bake for 20 minutes, or until the top is golden and the sauce is bubbling.
TIP
Freezing the salt pork until nearly frozen makes it much easier to cut.
More Daily Flavor
Sauteed zucchini with corn and roasted peppers
Quinoa, black bean and corn salad
Greek garbanzo bean salad