Individual treats
Delight your dinner guests with adorable individual peanut butter cheesecake mousse cups. They might look impressive but are actually a breeze to whip up.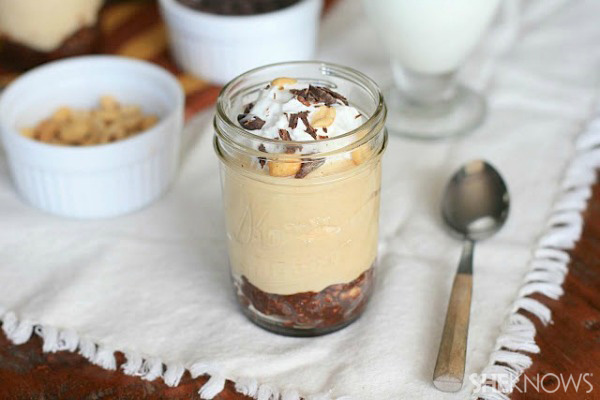 Mason jars make these chocolaty peanut butter desserts even more appealing, but you can substitute any small bowls or dishes you have handy.
Peanut butter cheesecake mousse cups recipe
Makes 8
Ingredients:
For the crust
4 tablespoons butter
3/4 cup chocolate chips
1/4 cup sugar
2 cups coarsely chopped roasted peanuts
For the filling
1 cup heavy cream
8 ounces cream cheese
1 cup creamy-style peanut butter
1 cup powdered sugar
1 (14 ounce) can sweetened condensed milk
1 teaspoon vanilla extract
For the topping
Whipped cream
Chopped peanuts
Chocolate shavings
Directions:
For the crust
In a medium, heavy bottomed saucepan combine the butter, chocolate chips and sugar over low heat. Gently melt the chocolate, stirring constantly. When the mixture is smooth, add the chopped peanuts.
Divide among your individual dishes or jars and press the mixture down to make a bottom crust.
For the filling
In a large bowl, beat the heavy cream until stiff peaks form. Cover and refrigerate.
In another large bowl, combine cream cheese and peanut butter and beat until smooth. Reduce speed to low and gradually add in powdered sugar until well combined. Add sweetened condensed milk and vanilla. Beat on medium speed until mixture is creamy and smooth.
Add 1/3 of the whipped cream to the peanut butter mixture and stir to combine. Gently fold in the remaining whipped cream until well blended. Evenly divide the filling into the prepared serving dishes or jars. Cover with plastic wrap and refrigerate for at least 3 hours.
When ready to serve, top with whipped cream, chopped peanuts, and chocolate shavings.
More Daily Flavor
Vegan cherry chocolate ice cream
Gluten-free lemon tart
Peach Melba parfait