Coffee with a kick
If you love coffee, you'll adore this iced Mexican coffee cocktail with spiced café de olla.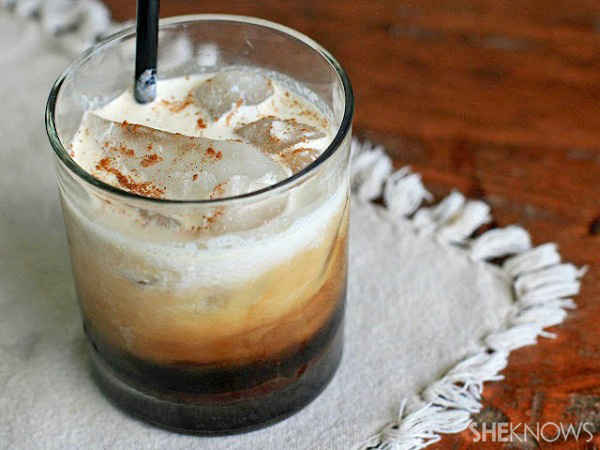 Spice up your coffee with cinnamon, cloves and anise for an authentic café de olla, then add more indulgent ingredients to create an iced coffee beverage that doubles as a cocktail.
Iced Mexican coffee with café de olla recipe
Adapted from Amor y Tacos: Modern Mexican Tacos, Margaritas, and Antojitos
Yields 1 iced coffee; 4 servings café de olla
Ingredients:
For café de olla
5 cups water
4 cinnamon sticks
6 whole cloves
4 star anise
1/4 cup white sugar
1/4 cup lightly packed brown sugar
3/4 cup ground dark roast coffee, regular or decaf
For iced Mexican coffee
1 tablespoon chocolate syrup
Ice cubes
1 ounce coffee liqueur
1/2 cup cold café de olla
1 tablespoon heavy cream or half-and-half
Cinnamon
Directions:
For café de olla
In a medium saucepan, combine the water, cinnamon sticks, cloves, star anise, and both sugars. Stir and bring to a boil, then reduce heat to low and simmer, uncovered, for about 25-30 minutes. Remove from heat and add the ground coffee. Stir and cover; let steep for 5 minutes.
Pour through a sieve lined with a coffee filter. Serve hot or bring to room temperature and then refrigerate for use in iced coffee.
For Mexican iced coffee
Drizzle chocolate syrup on the bottom of a glass. Add ice cubes, coffee liqueur and café de olla and cream. Sprinkle with a pinch of cinnamon.
More Daily Flavor
Watermelon tequila mojito
Mahana cocktail
Royal Tahiti cocktail